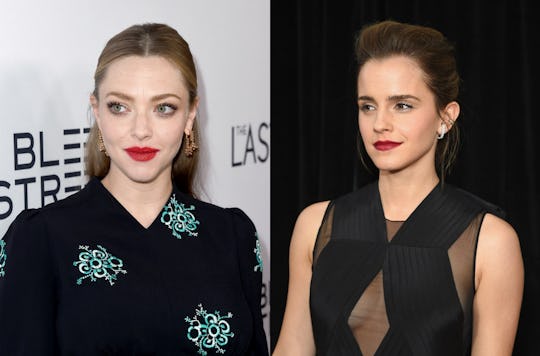 Kevin Winter/Getty Images Entertainment/Getty Images; Jamie McCarthy/Getty Images Entertainment/Getty Images
Celebrity Photo Leaks Need To Stop
Leaks these days seem like a dime a dozen (do the words "Trump tax return" ring a bell?). Stemming from both the entertainment and political scenes, unintentional info-drops have served both to pique curiosity and break important news to the world. This latest leak, however, is nothing of the sort, and aside from serving no useful purpose, the flood of sensitive celebrity images that hit the internet this week has once again resurrected the debate over female sexuality, privacy, and public intrigue. Among the names whose photos were plastered on a gossip website this week were actresses Amanda Seyfried and Emma Watson, who demanded the website remove whatever photos it had of both women immediately.
According to several outlets, Watson's publicist confirmed that "photos from a clothes fitting Emma had with a stylist a couple of years ago [had] been stolen" before being posted to the website. "They are not nude photographs. Lawyers have been instructed and we are not commenting further," the publicist added.
Seyfried's lawyer also reportedly reached out to the site on Wednesday, explaining that any photos the website had were taken "either in various states of nudity" or "in intimate moments with her former boyfriend" and were intended to be private, according to a letter allegedly obtained by TMZ.
Seyfried's attorney reportedly demanded that the site take down the photos, adding,
These photographs are believed to have been leaked, i.e., wrongfully obtained by a third party or parties without Ms. Seyfried's knowledge or consent. Your unauthorized use and distribution of the Seyfried Photographs constitutes, at a minimum, copyright infringement, violation of Ms. Seyfried's right of privacy under applicable law, and tortious conduct under state and common law.
Romper has reached out to Seyfried's publicist for comment on the letter and leak and is awaiting a response.
Justifiably angry statements aside, the fact that either actress is now faced with the same situation so many other women have faced in recent years is not only disgraceful, it's exhausting. Only a few years ago, in 2014, a hacker leaked similarly sensitive images belonging to Jennifer Lawrence, Kate Upton, Selena Gomez, Kirsten Dunst, and Ariana Grande, among others. Lawrence's lawyer threatened at the time that "authorities [had] been contacted" and that "anyone who post[ed or re-posted] the stolen photos" would be prosecuted. (Hacker Edward J. Majerczyk, 29, was sentenced to nine months in prison for the leak in January this year, as ET pointed out.)
Following the leak, Watson spoke out in defense of the women whose photos were published, lashing out at those criticizing or shaming them. "Even worse than seeing women's privacy violated on social media is reading the accompanying comments that show such a lack of empathy," Watson tweeted.
Watson was right — though many argued then, and still argue today, that women who take or pose for intimate or nude photos deserve whatever fate they suffer later, the fact remains that it's still no one else's business. More importantly, the fact that the photos exist still does not make it legal or OK for others to swoop in, hack the images, and publish them online. Trends like "revenge porn" — in which men (and sometimes women) publish sensitive images once sent to them in confidence — are not only reprehensible, they're illegal too.
There's much more to be explored in terms of updating current privacy laws or fixing the justice system so that it's more accessible to victims whose photos have been exploited — in one case, a woman seeking to have her photo removed from a revenge porn site was forced to send in photos of her naked breasts to a copyright office, just so that she could register for a copyright in order to bring a suit against the website itself. As CNNMoney explained at the time, the law simply "hasn't caught up to revenge porn" and other forms of photo hacks like it. But for now, the fact that any of this exists at all is disheartening at best.
Watson and Seyfried certainly aren't the first public figures to have their photos leaked online. But if their situation is treated with public contempt or mocked by those eager to shame them for things beyond their control, as so many women have been harassed previously, it's a guarantee that they won't be the last.