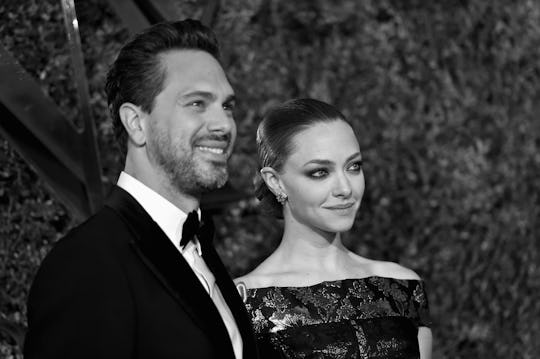 Mike Coppola/Getty Images Entertainment/Getty Images
Amanda Seyfried Is Engaged To Her Costar, Thomas Sadoski
Who's ready for some happy news? People has confirmed that Amanda Seyfried and Thomas Sadoski are engaged. Seyfried, best known for Mamma Mia! and Les Misérables, met Sadoski, formerly of The Newsroom, when the pair played one night stand partners in Neil LaBute's off-Broadway production, The Way We Get By. The two were apparently pretty good at playing a couple, because less than a year later, Sadoski signed on to play Seyfried's love interest once again, this time in the upcoming Shirley MacLaine dramedy The Last Word. Just a month later, People reported that their relationship had crossed over into real life.
If Sadoski's name doesn't seem familiar, his face might; Next month he can be seen in Season 2 of last year's number one new comedy, Life in Pieces on CBS. Despite drawing early comparisons to Modern Family, the single-camera comedy shone on its own thanks in part to its original formatting of four short stories woven together. And the ensemble cast certainly did hurt: In addition to Sadoski, the series stars James Brolin and Diane Wiest as the heads of the extended family, and Colin Hanks and Betsy Brandt as Sadoski's siblings. A Tony-nominated theater veteran, Sadoski previously played Don Keefer on the aforementioned Newsroom.
The Way We Get By was Seyfried's stage debut, but she's been acting since she was just 15, getting her start on As the World Turns (funny enough, Sadoski also had a brief stint on the long-running soap opera, although their terms didn't overlap). Since then, she's shown impressive range, from comedy (Mean Girls, Ted 2) to drama (Veronica Mars, Big Love) to musicals (Mamma Mia!, Les Misérables). After the upcoming The Last Word, in which Seyfried plays a journalist digging into the life of MacLaine's retired businesswoman, she can be seen in the 2017 reboot of Twin Peaks, where she'll play a "pivotal new character," according to TVLine.
Other than acting, the couple have another thing in common: They're both outspoken animal adoption advocates. In fact, their first official appearance as a couple was at a Los Angeles animal rescue event in June. And this wasn't just for show; Animal lovers will be delighted by Sadoski and Seyfried's Instagram accounts, both of which heavily feature puppies and kittens, but also the occasional reindeer, horse, pig, or hawk. Seyfried's dog, Finley, even has his own account.
Congratulations to the happy couple — I can't wait to see the amazing farm you two will inevitably retire to.