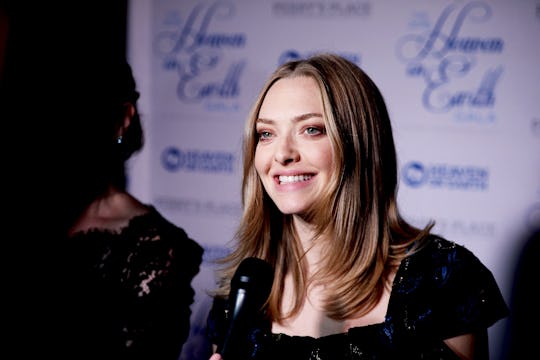 Matt Winkelmeyer/Getty Images Entertainment/Getty Images
Amanda Seyfried Is Pregnant With Her First Child & She Made The Announcement In Style
Amanda Seyfried knows how to make an entrance, but at a press event on Tuesday night, the actress really had people talking. During an appearance at Givenchy's Live Irrésistible fragrance press launch this week, Seyfried announced that she was pregnant and that she was expecting her first child with fiancé and fellow actor Thomas Sadoski, according to People. The couple have been engaged since September.
According to the outlet, Seyfried, a product spokeswoman, showed up to the launch on Tuesday in a sheer black minidress, which adorably showcased her "tiny baby bump." Seyfried chose to compliment the look with a deep smoky eye, slicked-back hair, black strappy stilettos, and the obvious glow that comes with impending motherhood.
The 30-year-old hasn't been shy about wanting to become a parent. Back in July 2015, Seyfried opened up about her desire to be a mom during an interview and photoshoot with Marie Claire. "I keep feeling like my eggs are dying off. I need to get on it… I want a child. Badly," she joked. "'I want to be a mother, badly. That's what I feel. I've been feeling it for like, two years. I'm not ready but nobody's ready. It changes everything… so how you can ever be ready for that?"
Just a month earlier in June, Seyfried told E! News, during a red carpet event for her film Ted 2, that she wasn't rushing to have a "white wedding" extravaganza to then-boyfriend Justin Long — or really at all. Instead, she said, her focus was on what came long after the ceremony. "I don't want a white dress! I've worn so many of them [in movies]," she said. "The fact is, that kind of stuff is less about the ceremony and more about the commitment. So it's like children. That's where it's at, right? For me."
Seyfried added that she was hoping to tick motherhood off her to-do list "in the next four or five years."
"And the second one can happen between 35 and 40," she said. "Or I can adopt... It's fine. I definitely want to a couple kids."
According to People, Seyfried and now-fiancé Sadoski first met in 2015 while working together in the off-Broadway show The Way We Get By, a play about the awkward morning after a one-night stand. At the time, The New York Times noted specifically of their chemistry,
... If [Seyfried] and Mr. Sadoski tend to talk at distractingly different decibel levels, there's no denying the genuine chemistry that flickers between them, and occasionally flares into something dangerously irresistible.
Apparently, the couple's onstage chemistry was just the beginning of something much bigger — and much more expansive — than either of them could ever have happily imagined. Congrats to the happy couple on their impending bundle of joy!