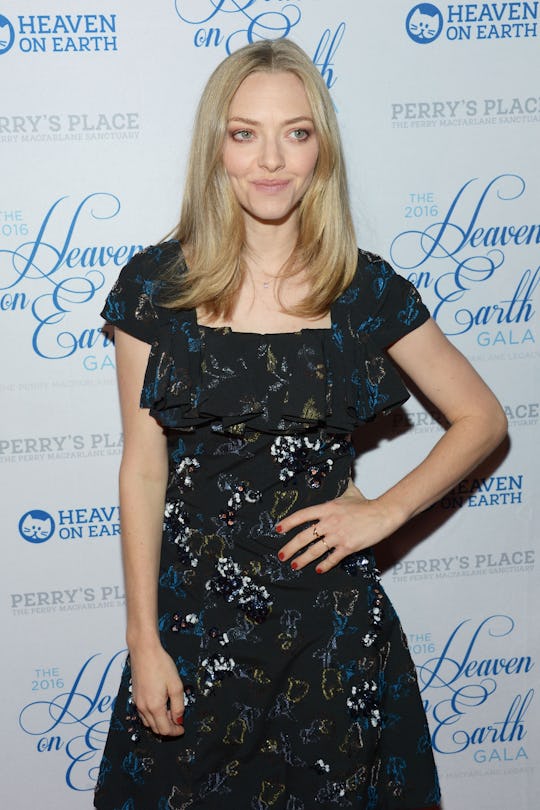 Matt Winkelmeyer/Getty Images Entertainment/Getty Images
Amanda Seyfried Talks About Her Pregnancy & Her Impressive Sense Of Smell
Remember when Amanda Seyfried's character on Mean Girls had psychic breasts that could predict the rain? Well, the actress may not have the same psychic abilities, but her first-time pregnancy has apparently given her some heightened senses nonetheless. At a launch event for Givenchy's forthcoming fragrance, Live Irrésistible Délicieuse, Seyfried talked about her pregnancy, which has given her a better sense of smell, for better or for worse.
As People reported, Seyfried revealed that her heightened sense of smell has some good and bad effects. For the not-so-bad effects, the actress revealed that she believes she can smell her TV. "I can smell electricity," she said. "I swear to God I can smell the TV." But for the more unfortunate side effect, body odor has apparently become more difficult for Seyfried. "The only thing that I can't tolerate is body odor," she said, according to People. "Normally body odor is, 'Uh, it's alright.' But I cannot tolerate it anymore. If someone has it, I have to leave. I have a hard time with that."
While having an improved sense of smell may sound like both a blessing and a curse, thankfully, according to People, Seyfried said that she doesn't have an issue with getting sick.
In an interview with Vogue earlier this week, Seyfried, who is the face of Givenchy's Live Irrésistible Délicieuse, explained that she keeps a consistent exercise routine to "promote those good vibes," and meditates to help combat her anxiety.
A new thing I've been doing for the past year and a half is meditating. I try to meditate every day in the afternoon or early evening, when the sun goes down. It does wonders for your brain. I'm a high-anxiety person anyway, so I need as much natural help as I can get grounding myself...
Seyfried and her fiancé, actor Thomas Sadoski, are expecting their first child together; they got engaged last September. According to the New York Daily News, the couple met while working together in last year's off-Broadway play The Way We Get By.
Apparently, Seyfried has been "badly" wanting to become a mother for some time. According to E! News, the actress revealed in a previous issue of UK's Marie Claire, that she's been ready to start a family for years. "...I want to be a mother, badly," she said. "That's what I feel. I've been feeling it for like, two years. I'm not ready but nobody's ready. It changes everything… so how you can ever be ready for that?"
Congratulations to the expectant couple.