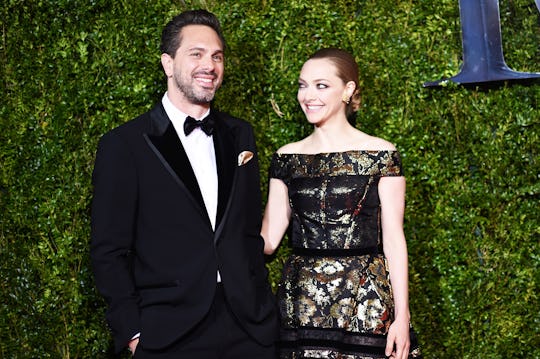 Mike Coppola/Getty Images Entertainment/Getty Images
Amanda Seyfried & Thomas Sadoski Secretly Eloped
In what might be the most casual wedding announcement since Ron and Diane on Parks and Recreation, Amanda Seyfried and Thomas Sadoski eloped over the weekend, a fact that Sadowski revealed to James Cordon on Thursday night with all the fanfare of someone announcing that they'd recently eaten at Applebee's, and it was actually pretty OK. At the top of a Late Late Show interview, it appeared that Cordon began to congratulate Sadowski because he and Seyfried are expecting their first child together, but he quickly got derailed. "We have congratulations for you, because Amanda, your – your – your..." Cordon sputtered. Sadowski responded by displaying his brand new wedding ring and proudly filling in, "My wife."
Cordon had noticed the ring just moments before speaking, he explained. Sadowski told him they'd just eloped this past Sunday, and Cordon looked as excited as a kid being told they're going to Disney World. "Hang on!" the host replied. "Where? Where did you get married?" Cordon is so insanely thrilled for the couple, you'd think he was family. Sadowski told Cordon and guest Vanessa Hudgens that they "just took off into the country with an officiant," and Cordon straight-up loses it, sniffing and dabbing at his eyes as Sadowski fawns over his new wife. I want to share all my good news with him from now on.
Fans may recognize Sadowski from the CBS comedy Life in Pieces (and those who don't are really missing out; the cast alone is incredible) or for his years on Broadway. Seyfried is a mouse, duh. The couple first met in 2015, according to People, when they appeared together in the off-Broadway show The Way We Get By. The actors were both in relationships at that time, but they reunited while filming The Last Word with Shirley MacLaine, which premiered earlier this month, and began dating in March of 2016. The pregnancy was announced in late November.
Seyfried's due date is unknown, but the baby is believed to be a boy, based on her use of male pronouns when discussing the pregnancy with W magazine in December. The stream-of-consciousness interview veers from pregnancy cravings ("I crave everything that's made of flour, butter and sugar. Or not even sugar. Just flour and butter. You know what? Not even flour. Just butter. A stick of butter. Butter now.") to food textures to mental health issues (with a plug for the perfume she's hawking wedged in between), but Seyfried did mention that she hoped her baby would "crave cottage cheese his whole life." And on Wednesdays, he'll wear pink.