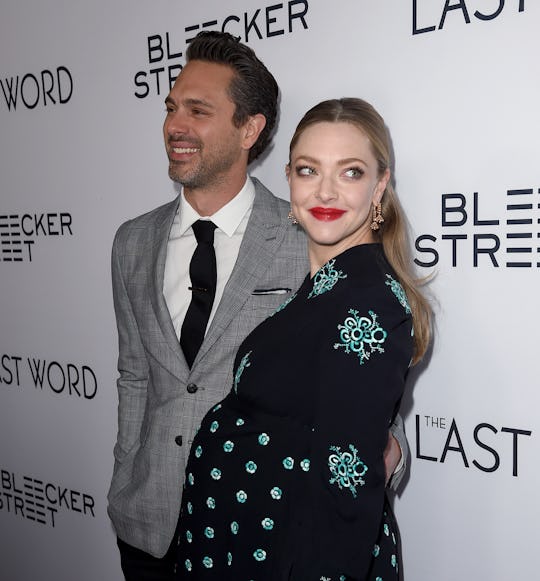 Kevin Winter/Getty Images Entertainment/Getty Images
Amanda Seyfried & Thomas Sadoski Welcome Baby!
And baby makes three! News broke late Friday night that Amanda Seyfried and Thomas Sadoski welcomed a baby and the news couldn't have come at a better time for the couple. This is the first child for the couple, who announced just days ago that they had eloped ahead of their baby's arrival. A representative for the couple confirmed to E! Online on Friday, March 24, that Seyfried and Sadoksi welcomed a baby girl.
Seyfried's new family member was much anticipated by the couple. In 2015, the actress opened up to Marie Claire UK, saying that she needed to "get on" having a baby. She told the magazine:
I keep feeling like my eggs are dying off. I need to get on it… I want a child. Badly. I want to be a mother, badly. That's what I feel. I've been feeling it for like, two years. I'm not ready but nobody's ready. It changes everything… so how you can ever be ready for that?
Both Seyfried and Sadoski have kept fairly mum about the details surrounding the pregnancy, with details on how Seyfried was feeling leaking only late in her pregnancy to the media. The couple also didn't comment on the sex of their child to the public and managed to escape intrusive public interest in their delivery, announcing only after their daughter had been delivered that she had arrived.
Early on in March, Seyfried told E! News that she felt more than ready to meet her new arrival, without hinting how far along she was. She shared: "I'm ready to go. I'm ready to meet the kid!"
Sadoski added, "I'm terrified but I couldn't be more excited." As for how they'll treat the breakdown of parental responsibilities, Sadoski seemed more than ready to take on the, uh, less-than-glamorous side of parenting. "She gets the singing," he told E! News. "I do the diaper changing."
Speaking candidly on The Late Late Show last week, Sadoski shared that he and his wife had escaped to privately get married well outside of the Hollywood spotlight:
We eloped. We just took off into the country with an officiant and just the two of us, and we did our thing…We had a great day. It was perfect.
Sadoski shared that the parents-to-be wrote their own vows and the ceremony took place in front of Seyfried's dog, Finn.
To be totally honest, their daughter's arrival sounds like a picture-perfect ending to a month filled with delightfully happy memories for the couple. So here's to the first-time parents, the happy couple, their new addition, and a lifetime of happiness. They more than deserve it.