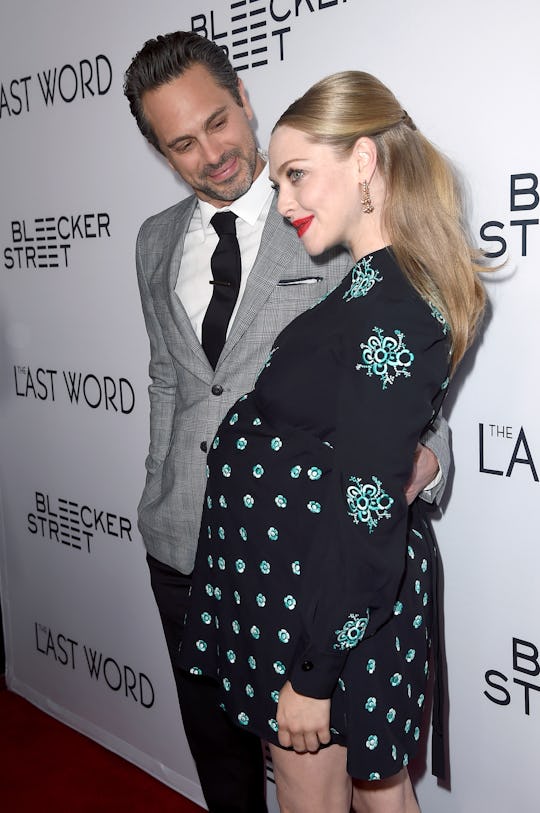 Kevin Winter/Getty Images Entertainment/Getty Images
Amanda Seyfried's Fiancé Is Too Sweet For Words
Pregnancy is a magical and mystical time in a woman's life and dad-to-be Thomas Sadoski couldn't agree more as he witnesses his other half experience hers. According to Us Weekly, the 40-year-old actor and Amanda Seyfried's fiancé said that her pregnancy has been an "amazing thing to witness." The expectant mama announced she was expecting the couple's first child in November 2016 and her partner has been in awe of Seyfried's maternal instinct ever since — and her due date is still months away.
"I am more proud of Amanda than I've ever been of anybody in my entire life because she's been an incredible mom already, and we haven't even gotten to go time yet," Sadoski told Us Weekly at the premiere of The Last Word, the new film they both star in. The Newsroom alum's gushing continued:
She's just so thoughtful, careful, loving, caring, giving, kind, generous, fun, funny. You can see it all going in there. And that level of attention that is being paid already, with all of that focus and energy and that kindness and goodness of spirit and heart, it's an amazing thing to witness.
The proud papa-to-be also revealed that he's "more terrified than I've ever been in my entire life" as he enters this next chapter of his life, but Seyfried keeps him calm and collected.
Long before Sadoski became amazed with how Seyfried has taken a natural liking to motherhood, he was a big fan of her work and admired her on-screen talent.
"First and foremost, she's one of the artists in this business that I have a tremendous amount — and have had a tremendous amount — of respect for for a very long time," Sadoski also told Us Weekly.
According to People, the couple first met in 2015 while working together on the off Broadway production The Way We Get By, a play about the awkward morning after a one-night stand and The New York Times noted at the time that there was "no denying the genuine chemistry that flickers between them" on stage.
They began dating a year later in 2016 after they reconnected on the set of The Last Word, which premiered on March 3, and got engaged later that year.
The expectant couple's onstage chemistry has clearly blossomed into something beautiful and this incredible bond is more obvious — and stronger — than ever before as they experience this amazing time in their lives and wait for their bundle of joy to arrive.