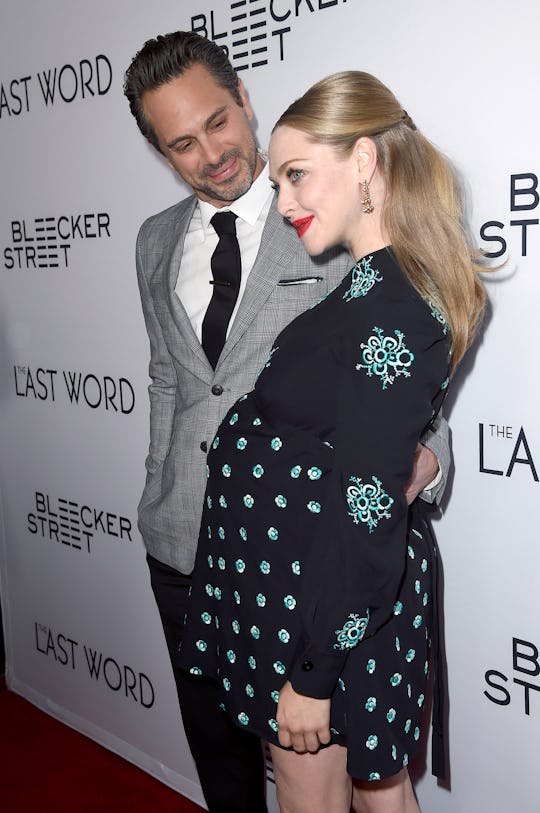 Kevin Winter/Getty Images Entertainment/Getty Images
Amanda Seyfried's Instagrams Are Refreshing
Pregnancy can do wonders for a woman. It can bring out their sense of resourcefulness (a pregnancy bump serves many purposes), a sense of tidiness (hello, nesting), and bring out their inner glow (it's not a myth). Actress Amanda Seyfried, currently pregnant, is not a stranger to these changes — Seyfried looks radiant in the photos from her pregnancy. But on the contrary, Amanda Seyfried's pregnancy instagrams are just like any other person's instagrams, which is honestly refreshing.
Seyfried and fiancé actor Thomas Sadoski announced they were expecting their first child in November after getting engaged in September, according to People. Unlike some celebrities who prefer to announce their pregnancies over social media, Seyfried remained quiet about her good news until her pregnancy bump became very distinct during a red carpet appearance. In spite of her silence, Seyfried has remained quite active on her Instagram account, posting photos of goats, household items, and the occasional acknowledgement towards her pregnancy in there too. It's this very laid back approach that makes Seyfried's pregnancy instagrams relatable — because she isn't trying too hard — and shows that pregnancy really is just another part of a woman's life. Seyfried's pregnancy Instagram posts show that pregnancy doesn't have to be the center of a woman's life — although it can make things a little more fun.
She's Got A Sense Of Humor About It
"I'm very proud of the baby I made with Shirley-it's called #TheLastWord and it's in theaters today!" Seyfried wrote in the photo's caption. This sense of humor (while promoting her newest film, The Last Word) is what makes Seyfried's pregnancy instagrams so fun — and funny.
In an interview with The Morning Call, Seyfried revealed that she is due "in a couple of weeks" and that her pregnancy has definitely been an experience, to say the least. "It's definitely an amazing time," Seyfried told the newspaper. "I'm happy to be promoting 'The Last Word' but right now I'm at the point where I just want to get my baby out."
She's Subtle About It
Aside from her very funny bump pictures above — references to Seyfried's pregnancy bump are actually far and few between. Seyfried's pregnancy Instagrams, for the most part, are subtle — with little hints alluding to her growing belly. Seyfried, who is known to enjoy knitting, has shared photos of the clothes she has knitted for her little one.
These photos are super sweet and show that Seyfried is going to have one very lucky (and warm) child, dressed in handcrafted knitwear. But the photos also show that even though Seyfried might not constantly posting photos of her bump, she's still sharing bits of her pregnancy with fans.
But She's Going To Make An Amazing Mother
Just one glimpse at Seyfried's Instagram shows that she already has experience in loving and nurturing for another being — her dog Finn — who, judging from Seyfried's Instagram, is definitely like a child to her. Sadoski believes that Seyfried has had plenty of experience in nurturing for others to prepare her for being a first-time mom. "I am more proud of Amanda than I've ever been in my entire life because she's an amazing mom already, and we haven't even gotten to go time yet," Sadoski told Us Weekly.
Sadoski continued with saying amazing things about his fiancé. "She's just so thoughtful, careful, loving, caring, giving, kind, generous, fun, funny. You see it all going in there. And that level of attention that is paid already, with all of that focus and energy and that kindness and goodness of spirit and heart, it's an amazing thing to witness."
Amanda Seyfried's pregnancy Instagrams are ordinary — aside from the few shots of her pregnancy bump, you wouldn't be able to tell that she was pregnancy. This is refreshing — and shows that pregnancy doesn't have to be the center of social media accounts for expecting mothers. Instead, Seyfried's Instagram shows that there are plenty of ways to share the best parts of pregnancy with others.