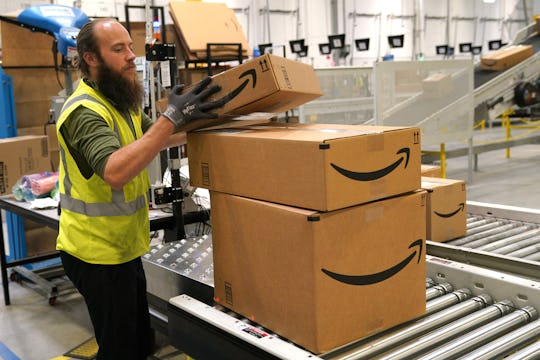 Rick T. Wilking/Getty Images News/Getty Images
Amazon's Free Holiday Shipping Will Help Kick Off Your Gift Hunt Early This Year
It may not yet be Thanksgiving, but a major retailer is offering its customers a little bit of holiday cheer already. Amazon has announced free holiday shipping for everyone, so getting a jump on holiday shopping might be even more tempting.
According to a press release from the shopping mega-site, customers, starting on Nov. 5, can send whatever gifts they want, without having to pay that annoying minimum purchase for free delivery — a perk usually reserved for Amazon Prime members only.
Prime customers will be getting a little something extra in their stockings, too: Those in "more than 60 cities" can get Whole Foods orders delivered for free in as little as an hour, in case you need last-minute snacks or forgotten about ingredients for holiday cooking. Prime members will retain their right to unlimited free two-day shipping on more than 100 million items, the company added.
Prime members in total pay some $119 annually for the service's free shipping, streaming video and music, and other features, USA Today noted, with the company adding that Amazon boasts over 100 million Prime customers around the globe.
That's a lot of toys to put on a sleigh, but as Reuters noted, Amazon is going to have to win more sales this season to beat an earnings slowdown it forecast last month, which resulted in its stock dipping. The current financial quarter is usually Amazon's most successful, the outlet added, clarifying that Amazon lowered its minimum for free shipping to $25 from $35 back in May 2017 to encourage sales.
How this new ordering news will affect Amazon's big rivals, Walmart and Target, remains to be seen, Reuters added. Walmart has kept to its $35 order minimum so far this holiday season, but Target hit pause on its minimum until Dec. 22, according to Reuters.
And while many people look at the holidays as family time and try to guide their kids not to be overly concerned with the material aspect of the season, USA Today's Money section recently reported that there are many retailers hoping for especially big holiday seasons this year, including Bed Bath & Beyond, Kmart, and Claire's.
I know that as a responsible adult I am supposed to follow what's going on with the economy, and encourage things that will boost it. But as my own kids have gotten a bit bigger, I've scaled back on huge amounts of presents and overenthusiastic holiday shopping, preferring to spend on experiences instead, like theatre tickets for the family.
I would personally rather make or bake something special for someone than pressing buttons to send expensive things I probably shouldn't be charging, anyway.
But not everyone is crafty (I'm still learning), and a lot of families are spread out coast to coast. At least this way, Amazon is making it easier and less expensive than ever to get some toys to your nieces and nephews in another time zone, without having to sweat the details. The holiday season is just getting started, but Amazon — and retailers across the country — is hoping it'll be a good one.