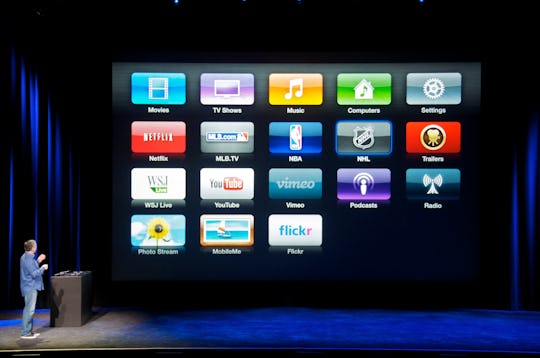 Mike Deerkoski/Flickr
Amazon Orders 3 New Kids' Series, Adding To The Already Awesome List Of Kids' Shows You Can Stream
Children's television has come a long way from when we were kids: Remember when we used to have a whole Saturday morning chock full of cartoons? Now, with the ubiquity of on-demand and streaming content on our laptops and even in our pockets, there are a lot more choices out there for children's television programming. It's clear that the landscape of children's TV is changing, especially with the news today that Amazon has ordered three new original kids' shows that will be up for streaming. But it's been going this way for a while. (I mean, I'm still getting over the news from this summer, that beloved public television staple Sesame Street will move from PBS to HBO, which will soon make it streamable on HBO Go.)
That's not the only thing that's changing about TV consumption. A recent study showed that 8.2 percent of pay TV customers chose to drop their service in 2014, an act that's been dubbed "cord cutting." Whether it's all an effort to outwit cable giants like Comcast and Time Warner, or to support more independent programming, steaming and on-demand children's programming is quickly becoming the new norm in millennial households. In other words, those Saturday morning cartoons have transformed into Anytime, Anywhere cartoons. (Man, would our former kid-selves be jealous.)
Streaming providers like Amazon, Netflix, and Hulu have witnessed this changing landscape of kids' television, too — and are wisely making the savvy jump from simply streaming syndicated children's TV shows on their networks to producing their own original kids' content. 
Earlier this month, Netflix added seven more original kids' shows to their lineup, too, proving that the children's content game is the one to be in. And these aren't just rinky-dink animated knockoffs, either. Amazon's original kid's show, Tumble Leaf, won five Daytime Emmy Awards this year.
With all this emergent children's programming, here are eight of the best original kids shows you can watch right now on Amazon, Netflix, and Hulu.
Netflix has capitalized on the success of the Shrek franchise by giving the swashbuckling Puss in Boots his very own TV show. Sorry, no Antonio Banderas voicing this feline protagonist, but a very convincing sound-alike instead.
In this gorgeously animated stop-motion series, Fig the Fox explores his world with his friend Stick (his pet worm) and an assortment of adorable woodland pals. Using the scientific method as a guide to discovering his world and solving problems, Fig always finds a way to "figure it out" each episode.  
Netflix has taken another particularly savvy approach to their "original" children's programming by rebooting children's classics, like this updated retro-throwback of Mr. Peabody and Sherman. 
Encouraging kids to be imaginative, creative, and adventurous, this Amazon Original is a great show for a rainy day, inspiring kids to create their own masterpieces at home. Fans of the PBS Kids hit, Daniel Tiger's Neighborhood will recognize the voice of Katerina Kittycat as Annie in Creative Galaxy.
Based on the popular series of children's books by Chris Gall, Dinotrux is CG cartoon from DreamWorks Animation and distributed exclusively on Netflix. The show follows the journey of Ty, the Mighty T-Trux, as he must find new friends and face new challenges.
Wishenpoof follows the journeys of Bianca, a regular girl who just happens to have the ability to make wishes come true, called "wish magic." The show focuses on empowering kids to take chances, try to do their best, and solve problems.
Go, go childhood nostalgia! All your favorites are there: the quirky half-robotic detective, Inspector Gadget, his gal pal Penny and her dog Brain, Chief Quimby and of course, the evil Dr. Claw. The original Inspector Gadget has been given new life and adventures in this updated original.
While Hulu is still relatively new to the world of original children's programming, the entry they do have to offer, Doozers, is extremely well produced, in collaboration with Jim Henson Studio and DHX Media. The Doozers encourage children to be doers and to create, design, and innovate.
Images: Mike Deerkoski, @sage_solar/Flickr