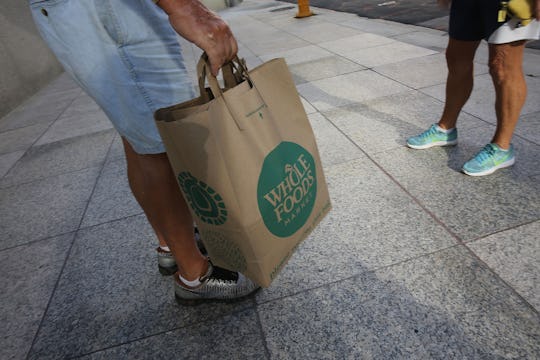 Joe Raedle/Getty Images News/Getty Images
If You Have Amazon Prime, Shopping At Whole Foods Just Got A Lot Better
As most parents know to be true, grocery shopping is not fun. Even if you do manage to make it out of the house with your sanity in check, shopping with kids is almost more of a hassle than it's worth. And if you happen to be kid-free during one visit to the store, grocery shopping still entails stress, lists, and shelling out a lot more money that you'd like to in order to provide for your family. Luckily, for a lot of families out there, Amazon's takeover of Whole Foods is about to make grocery shopping much more appealing. And potentially a lot cheaper, too.
According to a statement from Amazon, the company's acquisition of Whole Foods will officially close on Monday, Aug. 28, and with it will come the first step in creating a more accessible Whole Foods. As Amazon described the deal:
Vision of making Whole Foods Market's high-quality, natural and organic food affordable for everyone. As a down payment on that vision, Whole Foods Market will offer lower prices starting Monday on a selection of best-selling grocery staples across its stores, with more to come.
So, yeah. For a store that regularly gets referred to as "Whole Paycheck," this news couldn't come soon enough. And maybe now, the prospect of extra savings will be just enough to make grocery shopping actually bearable.
But lower prices aren't the only effect Amazon will have on the grocery store chain. Per the press release:
In addition, Amazon and Whole Foods Market technology teams will begin to integrate Amazon Prime into the Whole Foods Market point-of-sale system, and when this work is complete, Prime members will receive special savings and in-store benefits. The two companies will invent in additional areas over time, including in merchandising and logistics, to enable lower prices for Whole Foods Market customers.
So, if you've been debating about whether or not to invest in an Amazon Prime membership, it seems like now would be a good time to go ahead and take the leap.
Of course, it isn't exactly clear just how much cheaper things at Whole Foods will get, or precisely when the Prime rewards will kick in. However, the company did clarify a few items that would be going down in price:
We're going to lower prices beginning Monday on a selection of best-selling grocery staples, including Whole Trade organic bananas, responsibly-farmed salmon, organic large brown eggs, animal-welfare-rated 85% lean ground beef, and more.
For now, though, some major grocery staples are about to get a lot more affordable. And that's pretty great.