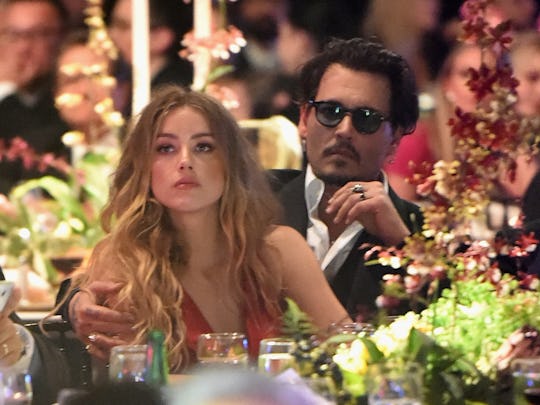 Jason Merritt/Getty Images Entertainment/Getty Images
Amber Heard Alleges Johnny Depp Was Abusive For Years
In a restraining order filed on Friday, Amber Heard alleges Johnny Depp was abusive for years. According to People, which obtained court documents, there were two recent events this spring that led to the Swedish actress filing for divorce last week. Depp's representatives and legal team did not immediately respond to Romper's request for comment. Heard, who just turned 30, celebrated her birthday on the 21st of April and alleges that Depp missed the party. Afterwards, she claims, he returned to their home "inebriated and high." They reportedly fought about his absence from the party and, according to Heard, Depp allegedly threw a "magnum size bottle of champagne against the wall and a wine glass on me and the floor." She alleged that after, "Johnny grabbed [her] by the hair and violently shoved [her] to the floor." Heard claims that her husband threatened her and taunted her to "get up."
In the court documents, Heard alleges that she didn't see her husband until a month later, after his mother passed away. Again, she claims that he was high and that a conversation deteriorated to the point where Depp allegedly threw a cellphone at her and hit her. The night of that incident, May 21, Los Angeles police say that they investigated the incident, but didn't see any "evidence of crime."
Days later, Heard filed for divorce citing "irreconcilable differences."
Depp has not responded directly to the claims, but said through a publicist on Thursday that "given the brevity of this marriage and the most recent and tragic loss of his mother, Johnny will not respond to any of the salacious false stories, gossip, misinformation and lies about his personal life." His attorney said in court documents, according to People, that Heard is attempting to seek a "premature financial resolution" to their divorce, since Depp has not agreed to pay alimony.
But Heard also claims that these two incidents were simply the latest in a long string of abuse. She alleges that Depp has verbally and physically abused her throughout their relationship and that he has struggled with substance abuse all along. She also says that Depp is "paranoid" and has a "short fuse" that has proven to be "life threatening" and scary.
It's surprising for fans to see one of Hollywood's favorite couples (or actors, for that matter) struggling so terribly. In the wake of Depp's legal team's allegations that Heard is looking for financial gain with the restraining order, many fans on social media have already picked sides. It looks like this situation is still a long way from being settled. Let's hope, for everyone involved, that things start getting a little easier all around.