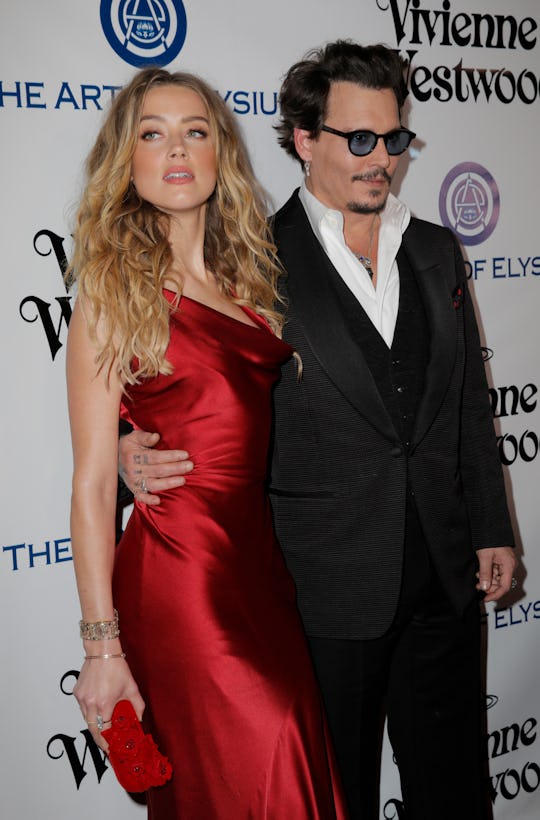 Alison Buck/Getty Images Entertainment/Getty Images
Amber Heard & Johnny Depp Video Allegedly Shows Fight, Fueling Abuse Allegations
Right in the middle of their divorce proceedings, a new video has emerged online allegedly depicting actors Johnny Depp and Amber Heard having a fight filled with shouting and smashing. In the video, released by TMZ, Depp appears to kick and slam cupboard doors and possibly throw a wine glass, while Heard films the incident. The video was reportedly recorded months before Heard filed for a temporary domestic violence restraining order against Depp, according to TMZ, and its emergence marks the latest in an ongoing legal battle between the married couple, and critics on both sides have issues with the video.
"You want to see crazy? I'll give you crazy," Depp says in the video. "Here's me – all your crazy." Soon after, he appears to realize Heard is filming him, and grabs the camera.
According to People, sources close to the actor claim the video of Depp was "heavily edited" and was used as a setup, with Heard encouraging his behavior. Heard has yet to respond to that allegation, but according to TMZ, she denied releasing the video and said she is looking to settle in court quickly, having "underestimated the toll" the divorce would take on her. In all probability, the video couldn't be used in court, either, due to its probable editing and Depp's lack of awareness that the exchange was being filmed. (Heard would need his permission for it to be admissible under California law.) Although the video might not be brought against Depp in court, TMZ reported that it will indeed be used in an exhibit by Heard's team, which will reportedly include other audio and video files.
Romper reached out to Depp and Heard's representatives, but did not hear immediately back.
Both Heard and Depp have stayed relatively quiet about the divorce proceedings and allegations, although Depp's representatives issued a statement in May, writing:
Given the brevity of this marriage and the most recent and tragic loss of his mother, Johnny will not respond to any of the salacious false stories, gossip, misinformation and lies about his personal life. Hopefully the dissolution of this short marriage will be resolved quickly.
Depp's lawyer, Laura Wasser, also said Heard was "attempting to secure a premature financial resolution by alleging abuse," according to E! News. Heard's legal team fought back against those claims, with Heard's attorney Samantha F. Spector writing in a statement:
Amber is simply a victim of domestic violence, and none of her actions are motivated by money. Amber is a brave and financially independent woman who is showing the courage of her convictions by doing the right thing against Johnny's relentless army of lawyers and surrogates. ... Amber is the victim. Amber is a hero.
With any luck, the divorce will be resolved quickly and honestly in the coming weeks.