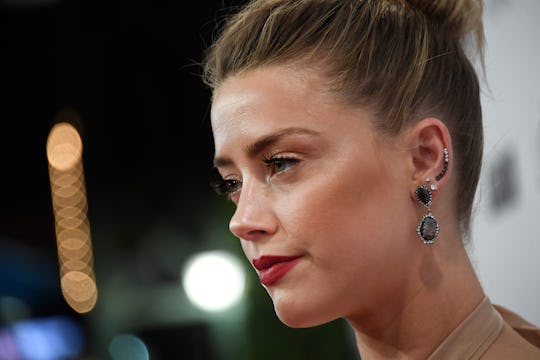 Frazer Harrison/Getty Images Entertainment/Getty Images
Amber Heard's Domestic Violence PSA Stands Up For Victims & Empowers Them To Seek Help
Months after the Amber Heard and Johnny Depp settled their widely-publicized divorce, Heard released a video on Friday that gave voice to her personal experiences with domestic violence. Amber Heard's domestic violence PSA contains an important, powerful message that validates the experiences for as many as the more than 10 million women and men in the United States who face intimate partner violence each year, according to the National Coalition Against Domestic Violence.
What makes Heard's video PSA for the #girlgaze project so moving to watch is that it's clear she's drawing from her own alleged experiences with domestic violence, most notably at the hands, she claims, of her ex-husband, Johnny Depp — but didn't mention the 53-year-old actor by name in her video. Depp has denied the abuse allegations made by Heard; legal representatives for Depp did not immediate return Romper's request for comment. After only 15 months of marriage, Heard filed for divorce from Depp, citing irreconcilable differences, but within a week of filing for divorce, she released the following statement through her representatives: "Amber has suffered through years of physical and psychological abuse at the hands of Johnny."
In her brief two minute video PSA, Heard echoes so many sentiments felt by many victims and survivors of domestic violence, such as "How is this happening to me?" and "If a stranger did this, it would be a no brainer."
She encouraged women who are facing domestic violence at home to "tell someone safe" about what they're going through and to seek help. For Heard, she shared that making that choice for herself and her safety was her first step in getting out of the cycle of violence in her own relationship. Heard spoke too of how going public about the violence she faced empowered her to stand up for all the women who don't have the luxury of a platform as public as her own.
Just as a woman having gone through this in the public stage, in the public arena that I did it in, I have a unique opportunity to remind other women not only that this doesn't have to be the way it is, you don't have to do it alone. You're not alone.
In June, People magazine published photos taken by Heard's friend that showed Heard's face covered in bruises and cuts, allegedly at the hands of Depp just days before she filed for divorce.
But despite the physical marks she allegedly got from her own domestic abuse, Heard also shared another important message in her PSA: "Violence against women is not limited to actual physical violence." Depp settled his divorce from Heard in August. To squelch rumors that she was only divorcing Depp for his money, Heard donated her entire divorce settlement — all $7 million of it — to the American Civil Liberties Union and the Children's Hospital of Los Angeles.
Heard's domestic violence PSA must not have been easy to make, despite the importance and necessity of her message — but her bravery to do so is inspiring for all women to stand together in solidarity against domestic violence.