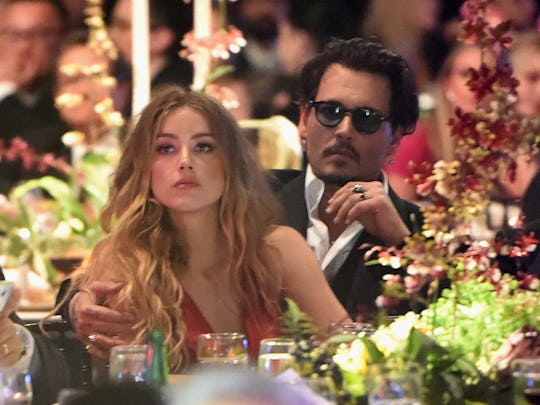 Jason Merritt/Getty Images Entertainment/Getty Images
Amber Heard's Friend Writes An Essay About Domestic Violence, & It's A Call To Action
Amber Heard and Johnny Depp's separation after just 15 months of marriage has been widely covered after Heard not only filed for divorce, but filed for a restraining order and accused Depp of domestic abuse. In Heard's statement to the police, she said she had been on the phone with a friend, iO Tillett Wright, when Depp allegedly abused her last. Since then, Amber Heard's friend has written an essay about domestic violence, and it's moving and heartbreaking. Depp's representatives have not responded to Romper's request for comment.
The essay is called "Why I Called 911," and though it never mentions Heard or Depp by name, it's clear from the details that she is referring to the celebrity couple. According to the Daily Mail, this alleged instance of domestic violence took place in the couple's apartment. Heard had been on the phone with Tillett when Depp tried to take the phone out of her hand and, allegedly, threw a phone at her face. Tillett wrote that, "I was on the phone with both of them and heard it drop, heard him say, 'What if I pulled your hair back?' and her scream for my help, I wondered like so many times before if I should break the code of silence that surrounds celebrities and invite the police into the situation." She made her decision and reportedly called 911.
According to TMZ, when police arrived at the scene, Depp fled and has denied all allegations since, choosing instead to address the situation through his lawyer. Heard filed for divorce shortly thereafter. People reported that friends of the couple said this isn't the first instance of alleged domestic abuse. Tillett's essay backs that up. She wrote that it "started with a kick on a private plane, then it was shoves and the occasional punch, until finally, in December, she described an all-out assault and she woke up with her pillow covered in blood. I know this because I went to their house. I saw the pillow with my own eyes. I saw the busted lip and the clumps of hair on the floor. "
Tillett had been close friends with both Depp and Heard, though she didn't name them, and she claimed that she "didn't want to believe it either, until I saw the wreckage." She wrote:
He had been my friend, too, a person I loved very much. [...] When you call someone your brother, you also commit to calling them out when they are wrong. As she, shaking and crying, described this 195-pound man throwing the full weight of his body into head-butting his 120-pound wife in the face in a fit of rage, I found that an unforgivable line in my heart had been crossed.
After that, she said she knew she had to do something to fight against the "culture of victim-blaming." Women everywhere are subtly and not so subtly discouraged from speaking out against domestic violence when the media questions their story, when fans side with the perpetrator, and when families turn against them. She wrote, "we say domestic violence is bad, we condemn it. But as a culture, we create the most fertile breeding ground for it to thrive. The cycle of abuse is perpetuated by every person who asserts that the victim more likely punched themselves rather than addressing the very real evidence of violence in front of them."
At the end of her essay, Tillett indicts not just alleged abusers, but those who say nothing, or those who teach women to say nothing. She calls out "every journalist, every editor, every person who puts a comment on an article[...] You are the lynch mob. You are a deafening chorus."
When Tillett heard her friend cry for her help, she wondered if she should stay out of it. She wondered if she should call the police. Then, despite her love for Depp, "in a split second decided that, yes, I was going to. Because I realized that as long as I was protecting the abuser from consequences, I was enabling the abuse and I could no longer partake."