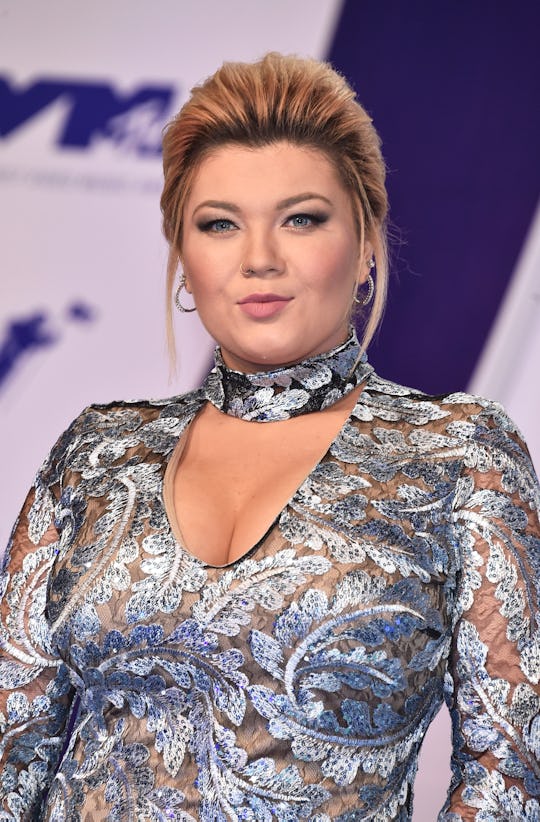 Alberto E. Rodriguez/Getty Images Entertainment/Getty Images
Amber Portwood Reportedly Gave Birth To A Baby Boy, & Fans Are So Excited
It looks like congratulations are in order for one Teen Mom mama. That's because the former 16 & Pregnant star is a mom — again. E! If you remember, Amber Portwood already has a daughter, Leah, with her ex, Gary Shirley. And on this morning, E! Online reported Amber Portwood has welcomed her second child — and first with current boyfriend, Andrew Glennon — on Tuesday, May 8. Reportedly, Amber Portwood gave birth to a baby boy, and here are the deets.
In Touch Weekly reported that Portwood's baby boy actually arrived a few days earlier than her anticipated due date of Sunday, May 13. (But seriously, wouldn't that have been the best Mother's Day present?) The new parents have named him James Andrew, according to the publication. His early arrival didn't come as a complete surprise for Teen Mom fans — because Portwood took to Twitter on Monday to give everyone a heads-up that she was in labor. "He's coming!" the laboring mama tweeted, while sharing a link to a Teen Mom Talk Now blog post revealing Portwood's baby was on the way.
And on Sunday, Portwood announced that she was already 3 centimeters dilated.
Although neither Portwood nor Glennon have shared a photo of their new little bundle of joy on social media yet, I have a feeling it won't be too long before the world is introduced to his sweet face. (After all, the Teen Mom star has kept followers regularly updated on Instagram throughout her pregnancy, and basically gave a play-by-play during her labor.) Less than a month ago, for example, Portwood posted a photo of 9-year-old Leah "practicing" with a baby doll in preparation for her new role as a big sister.
So cute! Yep, I can tell already that she's going to totally rock at her new title.
Earlier in April, Portwood shared a sweet photo of herself at a prenatal appointment, alongside a shot of Glennon, who was there at the doctor's office with her, Us Weekly reported. She captioned the side-by-side snaps with, "Andrew reading his baby book and me making sure little James is a healthy boy!! #LifeisBeautiful."
People reported back in November that Portwood was expecting baby number two with Glennon. She later confirmed the news via Twitter, E! Online reported.
And in December, she announced her second child would be a son, Us Weekly reported.
The Teen Mom star had reportedly met Glennon (who is a cinematographer) while Portwood was filming Marriage Boot Camp with her ex, Matt Baier. It's no secret that Portwood has been in a series of toxic relationships in the past. But on social media, at least, it seems as if she's actually happy with her current beau. And I'm so happy to see that she appears to be in a good place.
Aside from the drama that past relationships have brought to her life, another ongoing battle for the reality star has been with mental illness. Portwood has been open about her struggle with Borderline Personality and Bipolar Disorder, People reported. During season 6 of Teen Mom, she revealed how the medications she takes could potentially affect a pregnancy. At the time, she was still in a relationship with Baier, and although she had thought about one day having children with him, it wouldn't be an option. "I just got re-diagnosed for Borderline Personality and Bipolar Disorder, and I've been taking three medications now that I need to take for the rest of my life," she explained at the time, according to People. "I can't, I can't get pregnant on this medication." Although Portwood clarified that she could physically be able to conceive, the medications could cause harm to a growing fetus. She continued:
If I do not have medication, I will not be normal. I would have … crazy mood swings.
Whether Portwood stopped her medications for the duration of her pregnancy or switched to options that might be deemed "safer" by the medical community, I wish her the best as she begins her journey as a mother of two. Those early weeks can be so exhausting and overwhelming without the added complications of mental illness. Hopefully, Glennon will be an equal parenting partner so Portwood can recover from labor and delivery and enjoy those sweet newborn snuggles. Congrats on your baby boy, Amber!