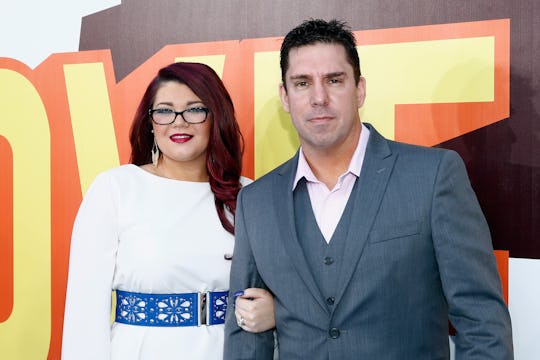 Rich Polk/Getty Images Entertainment/Getty Images
Amber Portwood Shares Daughter's Sweet Artwork
For as much as your child can drive you mad, they can also know just how to break your heart into pieces (in a good way) with just a few words. Teen Mom's Amber Portwood shared her daughter Leah's artwork on Instagram this week, for example, and it was a super sweet list of all things that make her happy. Not only was it just cute in the way most everything an 8-year-old writes is cute either — Leah also took the time to appreciate the co-parenting efforts of all the grown ups in her life. (Go ahead and grab the tissues now.) Portwood shares custody of Leah with her father, Gary Shirley. But Portwood is currently engaged to Matt Baier, and Leah made sure not to leave him out at all. She didn't forget her dad's new wife, Kristina Anderson either.
Talk about one big happy family. Leah wrote:
I like art. It's fun and makes me happy. Never say never, but never think your life will ever be the same. When I'm sad, I think of things that make me happy. Don't think you don't make mistakes. Everyone does. My stepdad's mac and cheese is the best. My stepmom's name is Kristina, my dad's name is Gary. My mom's name is Amber, my stepdad's name is Matt. My favorite food is mac and cheese. My favorite dessert is...
And that's where it cut off, because she ran out of room listing her favorite things. Oh, the suspense!
For the record, little Leah wrote that Matt is her stepdad, but he and Portwood haven't officially married yet. But when you're 8 years old, it just matters that someone's making the "best" mac and cheese, not whether they've said "I do."
Portwood obviously was moved to share the love and inspiration Leah wanted to share with the world. She captioned the picture, "My beautiful baby. I'm so proud. I had to share this." Be glad she did too, because the fact that Leah has already learned at such a young age that "everyone makes mistakes" and to not beat yourself up too much, as well as to "never say never?" It's enough to inspire anyone. Maybe Leah has a future creating inspirational memes or throw pillows. Whatever the case, it's good advice.
Back in September Portwood spoke with Cosmopolitan about her severe depression, anxiety, and recently diagnosed borderline personality disorder. "I think people don't quite understand what it's like to be bipolar and then have something like borderline personality on top of it, plus you have anxiety disorder," she said. Portwood also admitted that she used to "self-medicate," but now is relieved to be getting professional help. Leah helps, too. The Teen Mom star said that her daughter makes her the "happiest version" of herself.
Cute drawings and mac and cheese can't solve everything — especially mental health issues — but they certainly brighten the day.