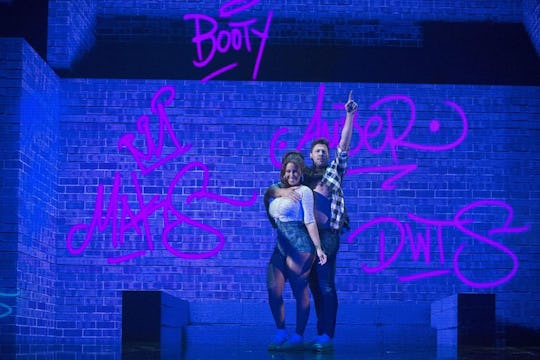 Eric McCandless/ABC
Amber Rose Addresses Julianne Hough's Comments On 'Dancing With The Stars' Face-To-Face
During a particularly sexy salsa dance from Amber Rose and her partner Maks on Dancing With the Stars, judge Julianne Hough said that the dance made her feel "uncomfortable." Following this comment, Amber was very vocal about how she felt about it, saying that she felt body-shamed by Julianne on her podcast Loveline with Amber Rose, and tweeted "Uncomfortable or not I had a blast and tried my best last night on @DancingABC and I respect Julianne Hough as a judge." On Monday night's episode of Dancing with the Stars, Amber Rose addressed Julianne Hough's comments live.
In her podcast, Amber said "You know, all the beautiful professional dancers that are on Dancing With the Stars, I mean they dress very sexy and they do the splits and they grind up on these guys and they look absolutely stunning and get a standing ovation. And me, and my body, my hips, my ass, my breasts made her uncomfortable." For her part, Julianne has said, "My 'uncomfortable' comment was about the fact that I felt like I wanted more out of the performance — when someone is doing a hot, sexy dance like that without the right amount of energy that is required, it can be uncomfortable to watch."
On Monday night, both women spoke to each other about the comment for the first time, following Amber and Maks' extremely sexy tango on Cirque du Soleil night. Amber began by saying, "I felt very embarrassed. And I felt like you weren't talking about my dance. If I misunderstood then I apologize." She also added that she would like "complete positive energy" moving forward. If you were expecting that this is where Julianne would also apologize, well you'd be wrong. She did say that what she loves about dance — it is a "universal platform" for everyone to express themselves, regardless of age, body type, creed, sexual orientation, and so on. She called herself "a huge supporter of that." But then she said she wasn't there to judge anything but dance. It seemed to miss the point.
Whether or not Julianne and Amber have decided to move on and put the whole thing behind them, there was no doubt that this was Amber's best performance on the show so far. This is when the judges declared that she had found herself on the dance floor, and she was rewarded with straight 8s from all three.