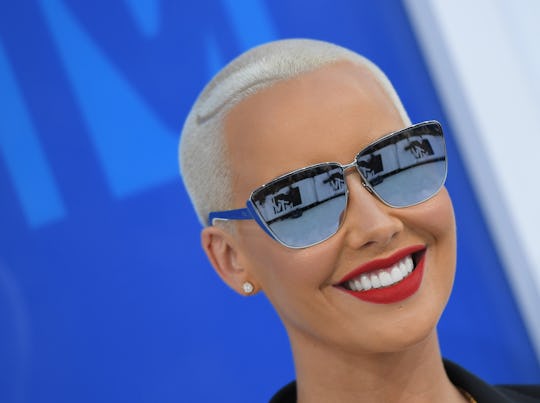 ANGELA WEISS/AFP/Getty
Amber Rose Is Eliminated On 'Dancing With The Stars' And We're All Disappointed
There was no elimination the week before, so on Monday's Latin Night of Dancing With the Stars, somebody had to be eliminated. Though she gave it her all, Amber Rose was eliminated on Monday night's episode. This means, of course, that her partner Maks will be leaving the show as well. Amber and Maks were treated to a lot of emotional video packages during her time on the show, and it seemed that she was having a hard time with it. At one point she said tearfully, "It's just, it's Sunday. And I have heels on," which is a totally legitimate complaint that I'm pretty sure everyone who's ever worn heels can sympathize with.
Despite the difficulties, Amber said that she was having the time of her life on the show, and wasn't expecting to care as much as she did. In this week's video package, Maks is seen banging the actual wall in frustration when Amber makes a mistake, and she straight up bounces. Apparently he just wanted to see her reach her full potential that she hadn't quite gotten to yet. And after all, all the judges had been telling her for weeks to trust her partner more. While it seemed like she and Maks had gotten to be good friends, it wasn't enough to carry her through.
After this week's performance, Bruno Tolioni probably said it best when he said "Amber you tease me to death. Will she? Will she not?" As someone who has been rooting hard for Amber from the beginning, I have to admit that I was a little disappointed myself that it always felt like she was a little uncomfortable on the ballroom stage. Julianne Hough actually felt the need to stand up and demonstrate how to really smack him on the chest. "Just smack it!" she yelled.
When she was eliminated, Amber said that most people probably don't know this about her, but that she's actually very shy in real life, and she felt that that probably translated to her dance on the ballroom. Perhaps this is true, but I will always wish that I had seen more from Amber on this show. At least now Maks will get to dedicate more time to full-time baby-prepping, which is what he intends to do.