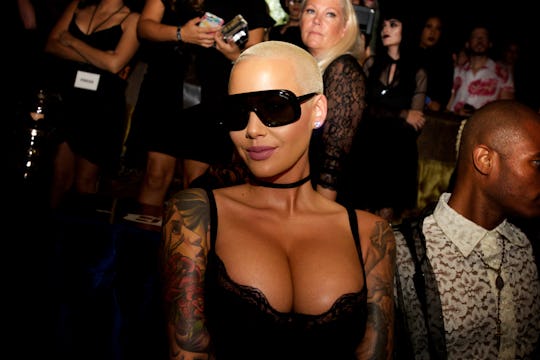 Earl Gibson III/Getty Images Entertainment/Getty Images
Amber Rose Says She Is Raising Her Son To Be A Feminist & Her Words Are So Powerful
The decisions that parents make when it comes to raising their children speak volumes, especially when it comes to celebrities who have their every move scrutinized by the public. Amber Rose — activist, social media celebrity, and founder of the Slut Walk — is a mom to a 5-year-old son, Sebastian, with her ex, Wiz Khalifa, and she knows this exactly to be true. Which is why it is so awesome that Rose says she is raising her son to be a feminist, proving that some celebrities are doing parenting right.
It's probably hard for Sebastian not to be a feminist with Rose for his mom, especially since she is such an advocate for women and their rights. And when you grow up with a role model like Rose in the house, it's practically a given that you will grow up respecting women. At least, that's what Rose hopes her son will do. In a new interview with Us Weekly, Rose revealed that she is raising her son to not only be a feminist but be respectful of the female body as well. "He's growing up to be a male feminist and respect women," Rose told Us Weekly.
While many people would hope that their sons would respect women, Rose's raising of her son goes deeper than that.
Rose elaborated on this, telling Us Weekly:
I always have this dream where my son is in school and his friends are like, "Man, she's a hoe," or "What's up with these hoes?" And my son is gonna be like, "You can't say that. Like, what?" Cause he's gonna be raised in a house with me where it's...just unheard of.
Rose isn't wrong. Boys should grow up defending other girls, not demeaning them. And if Sebastian has someone there to teach him that demeaning girls is wrong, then the less likely he is to join in on this. Based on the messages they receive in the media, their schools, and from their peers, according to Everyday Feminism, boys are taught to objectify women, or treat them like objects, rather than human beings, at a very young age.
Of course, parents (like Rose) can try to help change their kid's discourse. There are countless guides for parents out there so they can learn how to raise their children to be feminists. But at the end of the day, it boils down to parents teaching their sons that they should be themselves, teaching them to take care of others, and letting them know that is OK to cry, according to the New York Times, among other things. In a 2017 essay for TIME, Melinda Gates revealed that her and her husband, Microsoft founder, Bill Gates, taught their son, Rory, to be a feminist by talking about gender equality at the dinner table. What Rose is teaching her son is just an example of this.
But this recent interview with Us Weekly isn't the first time that Rose has spoken out about feminism. During an interview with HuffPost last year, Rose defined feminism as equality and "doing whatever the hell you want and not living up to society and what people want you to do." This could be exactly why in a 2016 interview with People (when Sebastian was only three at the time), Rose proudly proclaimed that she was "raising him to be a feminist." In that same interview, Rose revealed that she wasn't only intent on raising a strong son but was trying to be strong for him, too. "...I have to be stronger than I have in my whole life, for him," Rose said. "He needs to look at his mom as Superwoman."
Rose's teachings to her son is something that all parents can learn from. The earlier parents teach their children how to talk about girls, the earlier they'll learn that it isn't OK to demean them.