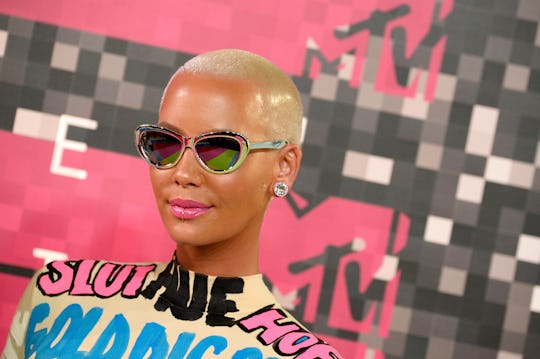 Amber Rose Used To Be A "Slut-Shamer," But She's Now Redefining Feminism
Amber Rose is a fascinating feminist to watch. The model and author doesn't shy away from being bold (hey, her book is called How To Be A Bad Bitch, after all), but she also understands how important it is to be sensitive and evolve as a feminist. Take her interview with The Guardian, in which Amber Rose spoke about being a former "slut-shamer," and how she's changed to become an advocate for women's empowerment. As she told the publication:
I used to call women sluts and whores all the time. Because that's what society taught me: that that was OK and that it was what I was supposed to be doing. But I grew up, and I have seen these issues, and I have become very passionate about it. I am a former slut-shamer and a newfound feminist.
And it's no wonder she's passionate — Rose truly does recognize how damaging labels can be from personal experience. Guardian journalist Rose Hackman puts it this way: 
While Rose is a business woman in her own right – with a sunglass line, a recently released book (How To Be A Bad Bitch), and a highly lucrative public appearance career – mainstream media has been unable to move beyond her as "the former stripper" and "ex-girlfriend of".
Google feminism and you'll get a definition that focuses on "political, social, and economic equality." Yet Rose seems to recognize that equality means nothing without respect. Here's what she's doing (in tandem with other activists) to broaden the focus of feminism:
1. She's challenging the idea that a woman's identity is tied to her sexual history.
Both of Rose's exes, Kanye West and Wiz Khalifa, made comments implying that Rose was dirty and undesirable because of her past. "It always seems like the men get the upper hand," Rose says in the interview. "Like – 'oh, that's so and so's girlfriend' when they get introduced to someone."
For women to achieve equality, they have to be able to establish independent identities, a process that is often undermined by comments from past partners. As Dr. Christine Mallinson of the University of Maryland-Baltimore County said in the October issue of Glamour, "There's a long history of using words like crazy to dismiss the legitimate concerns of women." Men's descriptions can be used to gauge a woman's value; Rose recognizes that it's not fair. 
2. She wants everyone to stop slut-shaming.
As someone who used to call women sluts, Rose understands how ingrained the word is in society. But having been the target of the insult herself, Rose expressed a desire to retire the word that is used to cause pain, regardless of a woman's sexual history. "I've been called a slut while I was still a virgin," Rose told The Guardian. "I have been called a slut while I was in a committed relationship with my husband." 
And slut-shaming has not only been faced by virgins and committed adults, but by babies (yes, really) as well. In October, Billboard got in trouble for a tweet that seemed to sexualize Kim Kardashian's daughter, North West, who was licking a lollipop in a photo. (The tweet's caption read, "The apple doesn't fall far from the tree... " Billboard issued an apology and claims the implication "was not intended.")
For the nation to get past slut-shaming, Rose suggests that we need to recognize that it's sometimes done intentionally, sometimes unintentionally, as in Billboard's case. At the same time, she thinks that adults need to feel free to embrace their sexuality, regardless of gender. "We are all adults, we are all capable of making our own decisions in life," she says. "The bottom line is men don't get judged for that but women do."
3. She is fighting for intersectional feminism.
In recent years, modern feminists and celebrities such as Rowan Blanchard have called for greater attention to intersectionality in the fight for women's equality. Amber Rose is no exception: She describes herself as biracial and has mobilized women of many backgrounds to participate in a Los Angeles SlutWalk fighting rape culture. She also tells The Guardian that she wants men to have an active role in the feminist movement. "It starts with us embracing each other and being role models for each other, and bringing that awareness to our sons and the men around us," she says.
Feminism is often divisive and difficult to define. But as Amber Rose amps up her advocacy efforts, we may be edging closer to a moment when open sexuality and women's equality are not often viewed as mutually exclusive concepts.
Image: Frazer Harrison, Christopher Polk/Getty