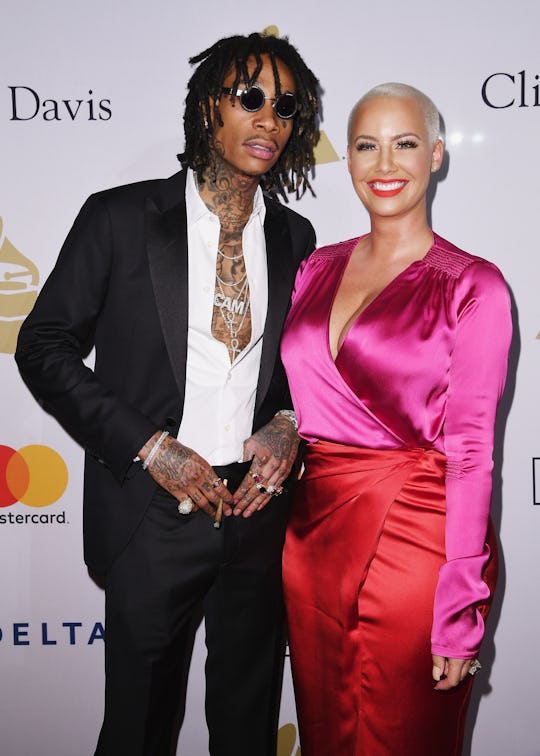 Kevork Djansezian/Getty Images Entertainment/Getty Images
Amber Rose & Wiz Khalifa's Son Met Taylor Swift, & The Video Will Instantly Make Your Day
Few things are more inspiring than seeing a true fan meet their idol, especially when that fan is one adorable starstruck child. That happened this week when Amber Rose and Wiz Khalifa's son met Taylor Swift, his favorite pop star, before one of her shows, resulting in the most adorable encounter. Khalifa and Rose were both kind enough to capture the whole moment on Instagram Stories and share it with the world.
At the start of Rose's video, 5-year-old Sebastian can be seen holding a beautiful bouquet of flowers for his favorite singer, watching adoringly as she kneels by him. When it's his turn, the singer gets on her knees to give the boy a huge embrace before asking if the flowers are for her. "I don't want to be presumptuous, are these for me?" Swift asked her biggest fan, according to Rose's video of the meet-and-greet. She chatted with him a minute and gave him a high-five.
Rose had to prompt her starstruck son to give Swift his special message for her. "Taylor Swift, I like when you're a cool rock star," Sebastian said. "You like when I'm a cool rock star? Thank you so much, I'll try to be that more. I will try to do that a few times on stage. I will give it my best shot," Swift told little Sebastian.
Swift can be heard telling Sebastian how excited she was when she noticed his mom there. And then she has her own adorable reaction when she looks up and notices Khalifa also in attendance. She jumps up to give him a hug. Khalifa's clip moves on from backstage to show Sebastian at the concert, standing on his seat and rocking out, singing along with every word.
Rose thanked Swift on Instagram with a photo of her little guy looking like a king, grinning for the camera next to an adoring Swift. It's a photo that Sebastian will no doubt treasure for life.
A few months ago, Rose revealed on Instagram how enamored her son is with Taylor Swift. A video post showed the boy receiving a box with tickets and swag for the Reputation tour. "This is going to be so exciting," he said, looking for all the world like it's Christmas morning as his mom helped him open the box. His enthusiasm is palpable and clearly shows just how much love he has for the star.
But bullies came out, attacking the boy for his taste in music. "Most 5 year old boys want an action figure or some kind of video game not Taylor Swift tickets," one person wrote. Another commented, "You doing your best 2 make this boy gay while wiz sits back and allows it where are the real fathers." *Sigh* what is wrong with people?
First off, it shouldn't even need to be said that nothing a parent does is going to "make" a child gay or will have any impact on their child's future sexual identity, or that there is absolutely nothing wrong with being gay, but clearly some people still haven't gotten the message. And Rose wasn't having any of that and fired back in an Instagram Story at the time. She explained that they don't require their son to live by any standards set by society but rather to choose what he enjoys himself. Then, in classic Rose fashion, she added a barb that, even at his age, her son probably has more money that anyone attacking him.
High five, mom!
Khalifa and Rose split in 2014, according to Us Weekly, after four years together, which included the birth of Sebastian. Though co-parenting with an ex can be hard, the two have held themselves to a high standard and worked to remain on good terms. This night out at the Taylor Swift concert is a good example of the way they set everything else aside, including online bullies, to put him first in their lives. Kudos to the pair for the example they're setting.