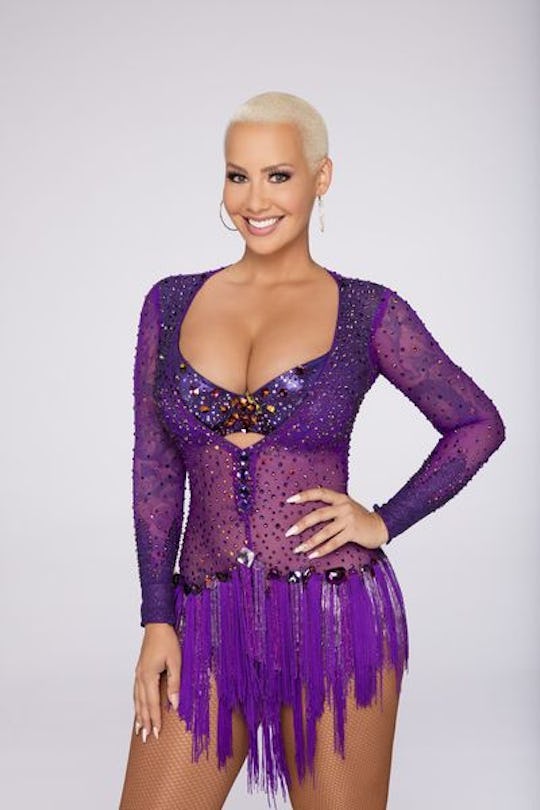 Amber Rose's 'Game Of Thrones' Dance On 'DWTS' Perfectly Embodied Khaleesi
For TV night on Dancing With the Stars, Amber Rose and partner, Maksim Chmerkovskiy either got the best theme song of the night or the worst, depending on your perspective. Whatever else it was, Amber Rose's Game of Thrones dance on Dancing With the Stars perfectly embodied Khaleesi. She was fierce, she was strong, and she was wearing some serious boots that she maybe should have left at home.
In the interest of full disclosure, I was a little bit let down by Amber during this number. She and Maks did a Viennese Waltz, that in this case seemed to be mostly just Maks dragging Amber around the dance floor by his head -- she spent much of the routine with her hands clamped to his face, in an effort to convey intensity I guess. She also had some troubles with the large boots she was wearing which, while a nice touch from a costuming perspective, were definitely a hindrance to movement, which judge Julianne Hough noticed. The pro dancer suggested that next time she just go with the regular ballroom shoes. But at the very least, both Amber and Maks were very much in character, which added a lot to their routine.
"She's a powerful woman and she's not going to stop until she gets the throne," Amber said when asked why she likes Khaleesi. This is actually a pretty accurate description of Amber herself. Amber Rose started with very little in her life, and basically fought and clawed her way to the top, where we see her now. Amber is also extremely vocal when it comes to standing up for women and for feminism, and Khaleesi, as the rightful queen of Westeros (come at me), definitely embodies everything that Amber stands for.
Unfortunately, the dance didn't reflect this as well everyone had hoped. Amber and Maks scored straight sixes, for a combined total of just 24, even with Maks dressed in such an accurate Khal Drogo outfit that I wasn't entirely convinced I wasn't looking at Jason Momoa on stage. I just hope that this team manages to come up with something a little more ambitious next week. I'd hate to see Amber go so soon!