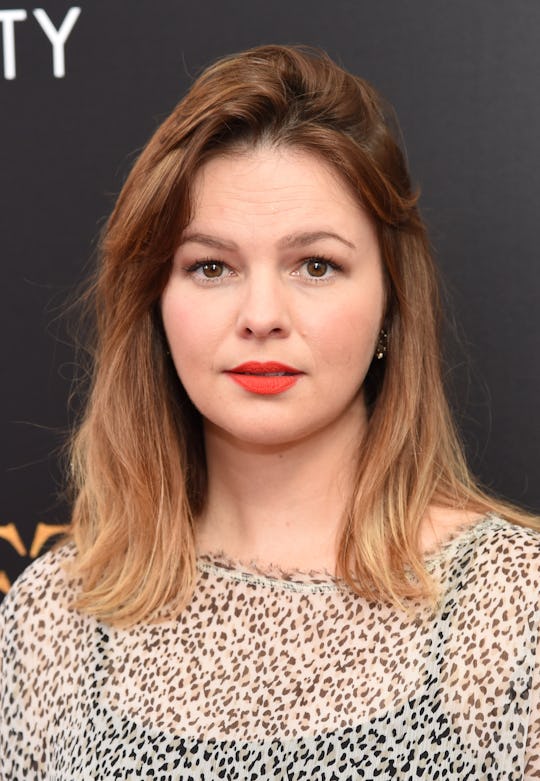 Jamie McCarthy/Getty Images Entertainment/Getty Images
Amber Tamblyn Opens Up About Past Sexual Assault To Highlight Why Trump's Words Matter
It's the kind of heartbreaking admission no one ever deserves to have experienced, but actress Amber Tamblyn opened up about past sexual assault on Instagram Sunday ahead of the second presidential debate, sharing a terrifying story of abuse at the hands of an ex-boyfriend, according to BuzzFeed. And while she acknowledged how difficult it was for her to share it — how much the story fills her with shame, and how uncomfortable she is at the prospect that her parents could read it — she did so to remind voters what's at stake in the upcoming election. While Republican presidential nominee Donald Trump might consider his past comments about kissing and groping women without their consent to be "just locker room talk," Tamblyn's own experience shows just how far from the truth those comments really are. In Trump's words, so many women just like Tamblyn are reminded of their own sexual assault histories at the hands of other men, and that is something that no one should be ignoring as Election Day approaches.
In Tamblyn's Instagram post, accompanied by a photo of Trump kissing former Miss Universe Olivia Culpo, the actress wrote that "a very long time ago," she ended a long-term relationship with a man who was "emotionally and physically abusive." After the split, Tamblyn attended a Hollywood party with some friends, when her ex-boyfriend showed up, found her in the crowd and picked her up by her hair with one hand and grabbed her vagina with the other, carrying her out of the party:
The minute he saw me, he picked me up with one hand by my hair and with his other hand, he grabbed me under my skirt by my vagina— my pussy?— and lifted me up off the floor, literally, and carried me, like something he owned, like a piece of trash, out of the club. His fingers were practically inside of me, his other hand wrapped tightly around my hair. I screamed and kicked and cried. He carried me this way, suspended by his hands, all the way across the room, pushing past people until he got to the front door.
Tamblyn continued to describe how finally, his brothers intervened, and somehow she was able to get away and go home:
The rest of this night is a blur I do not remember. How I got out to the car. How I got away from him that night. I never returned for my necklace either.
That part of my body, which the current Presidential Nominee of the United States Donald Trump recently described as something he'd like to grab a woman by, was bruised from my ex-boyfriend's violence for at least the next week. I had a hard time wearing jeans. I couldn't sleep without a pillow between my legs to create space.
To this day I remember that moment. I remember the shame. I am afraid my mom will read this post. I'm even more afraid that my father could ever know this story. That it would break his heart. I couldn't take that. But you understand, don't you? I needed to tell a story. Enjoy the debates tonight.
According to Us Weekly, Tamblyn made her sexual assault experience public after she (and most of the rest of the country) was left shocked and horrified after The Washington Post released 11-year-old audio Friday of Trump making vulgar comments to Billy Bush about women, and bragging about kissing and groping women, explaining that "when you're a star, they let you do it." Trump since apologized, and claimed that "these words don't reflect who I am," then claimed that "Bill Clinton has said far worse to me on the golf course," according to The Guardian.
When asked about his comments during the second presidential debate Sunday night, Trump reiterated that the comments were "just locker room talk," and that he'd prefer to "get on to much more important things and much bigger things," like fighting ISIS, according to The Independent. After debate co-moderator Anderson Cooper pressed Trump to clarify whether or not he has sexually assaulted women, Trump responded by saying that he has "great respect for women," and that "nobody has more respect for women than I do."
But that's an assertion that not many people seem to agree with these days. While this is certainly not the first time Trump has made shocking and vulgar remarks during his presidential campaign, the leaked tapes led many people — even within his own party — to publicly condemn the candidate, with some even calling for Trump to drop out of the race all together. Arizona Sen. John McCain issued a statement Saturday, officially withdrawing his endorsement for Trump, according to CBS News, as did Ohio Sen. Rob Portman, Alabama Rep. Martha Roby, Illinois Rep. Rodney Davis, Nevada Rep. Cresent Hardy, New Hampshire Sen. Kelly Ayotte, Idaho Sen. Mike Crapo, and Utah Gov. Gary Herbert. Others, including South Dakota Sen. John Thune, and Missouri Rep. Ann Wagner have called for Trump's running mate, Republican vice presidential candidate Mike Pence, to usurp him as the party's official nominee.
Despite the collective outrage though, and the fact that many members of his own party are calling him unfit to lead, Trump came out swinging Sunday night, clearly intent on launching as brutal an attack on Clinton as possible. During the debate, Trump called Clinton a liar, said she had "tremendous hate in her heart," referred to her as "the devil," and even said he'd try to put her in jail if he won the election, according to Reuters. While his performance likely didn't make huge gains in his popularity among undecided voters, NPR noted that, at the very least, his attacks on Clinton were likely enough to "stop the bleeding" in his campaign, and prevent further defection from GOP members — at least for the time being.
As for Tamblyn, her courageous post was incredibly important for so many reasons. Not only has she shown so much strength even being willing to share such a painful story so openly, sending a message to everyone else who has been sexually assaulted that they are not alone, it also (hopefully) reminds voters that, as much as Trump wants to pass off his comments as "locker room talk" and "just words," his perceived entitlement to women's bodies is dangerous, criminal if he has acted upon it, and representative of a toxic sub-culture of masculinity that is reinforced by the idea that such conversations are acceptable. Even though Trump may have been able to deflect some of the attention away from the leaked tapes through his vitriolic attack on Clinton Sunday night, the fact remains that a presidential candidate advocating sexual assault should never be overlooked, or minimized in any way.