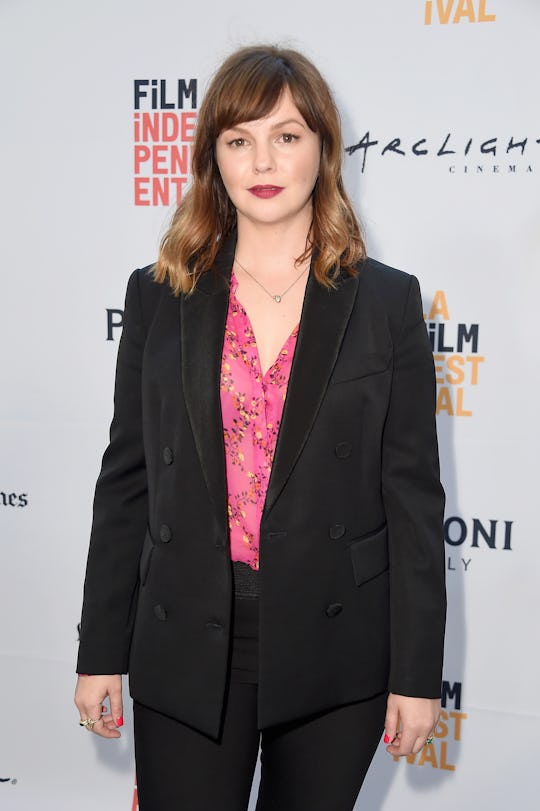 Frazer Harrison/Getty Images Entertainment/Getty Images
Amber Tamblyn Reveals Daughter's Name To The World
Farewell, Dauphinoise Petunia Brittany Scheherazade Von Funkinstein Mustard Witch RBG Cross Tamblyn-Bey jr., hello, Marlow. In a sweet post on Instagram Monday, actress, writer, activist, and all-around incredible mom Amber Tamblyn shared her infant daughter's name with the world for the first time — and if that weren't enough to put fans over the moon, the letter from Hillary Clinton, in which the baby's name made its very public debut, certainly will. (Helpful hint, grab the tissues now.)
"The one day I decide to put mascara on[,] Hillary Clinton sends us this letter for our daughter," Tamblyn wrote in the caption of the Instagram photo, which featured Clinton's letter, with personal details blocked out. "Crying now. A letter from one spectacular woman who has lived so much to another who has only just begun. My heart is as full as this diaper I'm about to change. Thank you, Hillary, grandmother to us all."
The letter itself, seemingly typed on Clinton's own letterhead and dated Feb. 15, 2017, read,
Dear Marlow: Happy Birthday! Your birth has been a source of great joy for your parents, Amber and David, and your vast community of admirers and champions. I send my best wishes to you for a lifetime of amazing accomplishments and adventures, full of love, learning, and friendship. With warm regards, I am Sincerely yours, Hillary Rodham Clinton.
Of note, Clinton signed the letter simply, "Hillary." (Oh, to be on a first-name basis with a former Secretary of State, right?)
Until Monday, Tamblyn and actor-comedian husband David Cross had kept their daughter's name a secret from the public, choosing instead to tease fans in Marlow's birth announcement with a made up, but very feminist moniker instead — the aforementioned "Dauphinoise Petunia Brittany Scheherazade Von Funkinstein Mustard Witch RBG Cross Tamblyn-Bey jr." Tamblyn aptly tagged the post, "#TheFutureIsFemale."
And speaking of feminism, Marlow certainly has plenty of support in her corner in that sense, at less than a year old. Along with Tamblyn, Cross, and Clinton — really, do you need much more than that, in terms of mentors? — Marlow can also count her mom's friends and former Sisterhood of the Traveling Pants co-stars America Ferrera and Blake Lively among her close circle of feminist role models. In January, Tamblyn attended Women's March rallies in both Washington, D.C. with Ferrera, and later, in New York City, with Lively. Tamblyn spent time with friend, badass feminist, and comedian-actor Amy Poehler at the D.C. event as well. (That's what you call #squadgoals.)
With role models like that, little Marlow will undoubtedly grow up to be a feminist icon in her own right — and if she ever needs a great college recommendation? Aunt Hillary will probably be more than happy to provide.