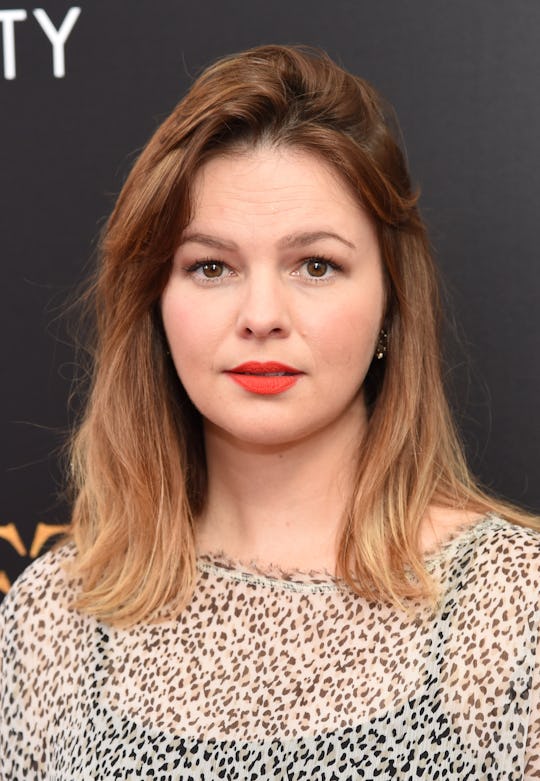 Jamie McCarthy/Getty Images Entertainment/Getty Images
Amber Tamblyn, Rose McGowan, Meryl Streep & More Star In A Powerful Sexual Assault PSA
Though it never stops being an issue that needs to be discussed, sexual assault has once again been a major topic in the media lately. After the release of the tape that featured Republican presidential candidate Donald Trump making lewd comments about women (which is nothing new for Trump), Trump and his team attempted to downplay the severity of his statements. They brushed it off as lies and "locker room talk", trying to make it seem like the things he said were no big deal. But in the newly released PSA "It's Not Okay," survivors and actresses like Amber Tamblyn, Rose McGowan, Lena Dunham, and Meryl Streep speak out against sexual assault, showing what the impact of statements like Trump's can be. It's not just locker room talk; his statements contribute to the culture that silences victims.
The PSA was made by Liz Garbus, the Oscar-nominated director of documentaries like What Happened, Miss Simone? and There's Something Wrong With Aunt Diane. "It's Not Okay" features survivors of sexual assault of all ages and from all walks of life who share their stories alongside actresses like Amber Tamblyn, Rose McGowan, Meryl Streep, and Maggie Gyllenhaal, some of whom are survivors themselves. The video makes it clear that Trump's statements are serious and the attempts to downplay them are indicative of the uphill battle so many women face when they try to report their own assaults.
After being horrified by so many of the comments made by Trump during his campaign, Garbus wanted to make the PSA to show how woman are affected by comments and behavior that normalize sexual assault. It was her goal "to share the OTHER side of the story – stories of women being objectified, kissed, groped, and humiliated by the words and actions of others. These words and actions have a huge effect on women's lives. And we are here to say, together, in one loud voice, that this is NOT OKAY."
The women in the video describe how they felt after their attacks: angry, violated, confused. "Dirty, of course," Rose McGowan added. Another woman said she knew after that her body was "no longer safe." They weren't taken seriously when they tried to report their assaults. It can feel like there are never any consequences for the perpetrators of assault, particularly when survivors face so much dismissal from all sides. What happened to them is minimized in the same way Trump's word were. It's just talk, right?
"I think people like Donald Trump will never understand the correlation that women understand between words and actions," Amber Tamblyn said in the video. "Especially when you're a man in a position of power and you talk publicly and you say those things you are telling the world – you are telling everyone – that it's okay to behave that way."
Giving women the opportunity and platform to share their stories is an important first step in making everyone understand just how serious and damaging it is to let behavior like this slide.