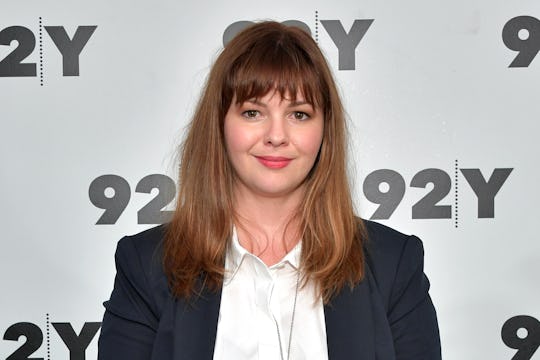 Dia Dipasupil/Getty Images Entertainment/Getty Images
Amber Tamblyn Shares The One Item You Don't Need On Your Baby Registry
For first-time parents, deciding what to include on a baby registry can be incredibly difficult. There are the obvious, big-ticket items like a crib, a car seat, a stroller, play pen, bouncer, swing, etc. And of course you're going to need plenty of adorable baby clothing, receiving blankets, diapers, and wipes. But there are definitely some products that you can go ahead and skip — and you and your baby will get along just fine. Recently, Amber Tamblyn shared the one item you don't need on your baby registry. And I'm sure plenty of parents will agree.
While at the Feminist AF reading series at Vulture Fest in Los Angeles on Sunday, Nov. 18, the mom — who shares a 20-month-old daughter with her husband, David Cross — opened up to Us Weekly concerning this very topic. "Oh, my God, there are so many things you don't need on your registry," Tamblyn told the publication. "I understand some babies are more fickle than others … but also get your kid used to the real world a little bit. You don't have to pamper them so crazily. I think wipe warmers are pretty ridiculous." She jokingly added, "We like to put the diaper wipes in the freezer so they are freezing cold and painful."
For the record, I 100 percent agree with Tamblyn on how unnecessary a wipes warmer is. Trust me. I've made it through three kids without one — and I still don't have one for baby number four, who will arrive in less than two months. (We've all survived, unscathed.) I would also add baby shoes to the list. Because infants aren't exactly going to be walking anywhere anytime soon. Unless, of course, you want cute baby shoes for photos. Then by all means, go for it!
Yet another baby item I would advise leaving off your baby registry: An amber teething necklace. Although they've definitely risen in popularity in recent years, there's simply no science to back up the idea that these necklaces offer any sort of teething pain relief, according to Dr. Andrew Weil, an integrative medicine practitioner, and the American Academy of Pediatrics (AAP.) In fact, not only are they not helpful, but as the AAP pointed out, necklaces of any sort actually pose choking and strangulation risks. And now you know.
Pointless/potentially hazardous baby registry items aside, this isn't the first time Tamblyn has offered an honest look into the realities of parenthood, like that time when she gave prospective parents a heads-up about breastfeeding. In March 2017, the new mom shared a mirror selfie featuring obvious breastmilk stains on her shirt, according to People. She captioned the shot with, "Who Wore It Better? Left tit or right tit? #MilkLife #StarsTheyreJustLikeUs!" LOL. (Side note: Breast pads are definitely a baby registry must, if you plan on breastfeeding.)
On a more serious note, Tamblyn also got real about the anxieties that come with being a parent. "I think one of the biggest things for me as a mom is to just remember that I really don't have much control in being able to protect her," she told Us Weekly on Sunday. "But I can keep her close and I can do everything I can to change the world instead. So that's what I kind of try to do on a daily basis is to try to make the world a better place to live in, as opposed to just being fearful of what she will go through." Ugh, yes. So much this. It's terrifying — especially in the beginning — that no matter what you do, you can't fully protect your child from the ugliness that exists in the world.
Although Amber Tamblyn "only" has less than two years of motherhood experience under her belt at this point, you have to admit she's already got some solid advice to give. So keep on keeping it real, mama. Because we're all trying to figure out this parenting things as we go — and no one should have to waste money on a wipes warmer to figure out it's totally unnecessary to begin with.