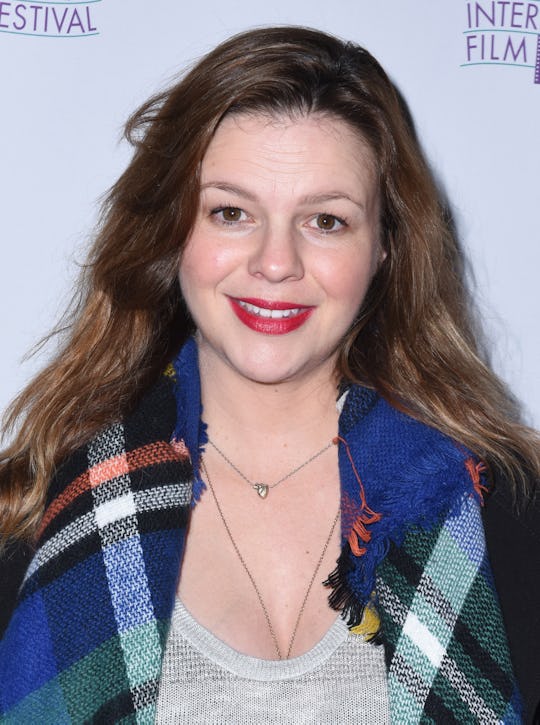 Vivien Killilea/Getty Images Entertainment/Getty Images
It's A Girl For Amber Tamblyn & David Cross!
It's a girl! Actress and activist Amber Tamblyn welcomed a baby girl with husband David Cross recently, and made the announcement in a perfect and hilarious Instagram post on Tuesday. It's the first child for Tamblyn and Cross. Tamblyn's post, of course, managed to be equal parts adorable and humorous, with Tamblyn announcing her a litany of names which (one would assume) were mostly a joke — although it would be pretty badass if it were the little one's name.
"David and I are proud to announce the birth of our daughter, Dauphinoise Petunia Brittany Scheherazade Von Funkinstein Mustard Witch RBG Cross Tamblyn-Bey jr.," Tamblyn wrote, next to a video of her daughter's tiny foot, popping out from beneath a blanket. "#TheFutureIsFemale," she hashtagged.
Romper has reached out to Tamblyn's publicists who were unable to share any additional information. USA Today has confirmed, though, that Tamblyn's Instagrammed baby name is, indeed, a joke.
Dispute about the baby's name aside, fans couldn't contain their enthusiasm for 33-year-old Tamblyn, wishing her congratulations and welcoming a new member of the sisterhood.
Tamblyn announced that she was pregnant in an essay for Glamour published last October. Entitled "The Frame That Holds the Big Picture: How Mothers and Daughters Can Change the Way We Talk About Being Women," the piece spoke to the potential mothers have to better their daughters' lives, written in the context of last year's presidential election. "I'm pregnant, with a daughter on the way. I think constantly about the world I am bringing her into," she shared. Blake Lively Instagrammed a quote from the essay in support, along with a photo of Lively holding the belly of her fellow Sisterhood of the Traveling Pants star — talk about feminist friendship goals.
Tamblyn and 52-year-old Cross were married in 2012. Cross hasn't officially commented on the baby's birth yet, though he has recently been tweeting and retweeting his political beliefs online. This need for engagement and commenting on what's happening around him definitely aligns with Tamblyn's own activism; As far as parenting styles go, it seems their values are agreed upon.
When Tamblyn and Cross are ready to share their baby's name with the world, fans will be ready. Maybe they'll pick a name from the sisterhood: Lena, Bridget, Carmen, and Tibby are all adorable options. Or perhaps they'll go for Hillary, after Tamblyn's very impressive (and political) personal icon. More important than the baby's name, though, is the set of feminist parents raising her who are committed to bettering the world — not just for the reward of their own child, but to everyone else's benefit, too.