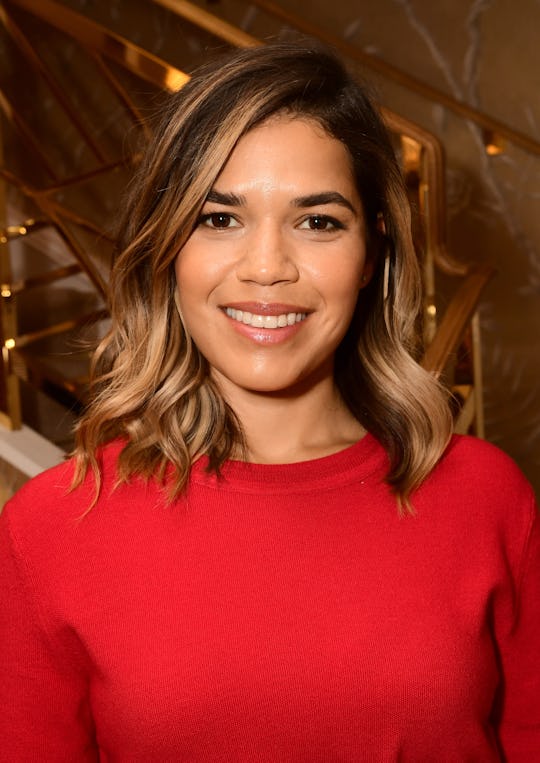 Emma McIntyre/Getty Images Entertainment/Getty Images
America Ferrara Opens Up About Being A Mom & It's So Relatable
Based on personal experience, once someone becomes a parent, everything changes. Not only have your everyday routine and priorities been shifted significantly, but your entire outlook on life has been altered. Because suddenly, you're responsible for catering to the needs of a tiny human who relies on you for literally everything — and you'd do anything to protect them from harm. Celebrities are no exception to this. Recently, America Ferrera opened up about being a mom and how she's changed since becoming pregnant. And I have a feeling plenty of parents can relate.
If you've lost track, Ferrera shares a 6-month-old son, Sebastian, with her husband Ryan Piers Williams, according to Today. The actress confirmed the big news via Instagram on May 29, with a photo of her baby boy's tiny foot. "When 2 become 3..." she captioned the shot. "Welcome Sebastian Piers Williams — aka Baz! Mom, Dad, and Baby are happy, healthy and totally in love!"
Recently, Ferrera opened up to Health about pregnancy, motherhood, along with how her life is different these days because of these experiences. "Every step of the way, everybody tells you what it's going to be like and how you're going to feel," she told the publication, according to E! Online. "I really think that is so harmful to so many of us. I decided early on that I wasn't going to expect my experience to be what other people told me it would be like — good or bad."
As it turns out, pregnancy was an extremely positive experience for Ferrera. "I felt really powerful and healthy," she told Health. "You create life. I found so much power in that." She added:
I didn't work out as much as I imagined I would during my pregnancy. I was in triathlon shape when I got pregnant. I had so much on my plate and something had to give.
Same, girl. I ran a marathon in April and then found out I was pregnant two days later. My running days have long since been over during this pregnancy.
The actress also opened up about the ups and downs of being a breastfeeding mom. "There are parts of it that I love and also parts of it that are super challenging, she said. "I'm just now starting to feel like I want to feel strong in my body again." (Which, thank you, America Ferrera. Because as special as breastfeeding is, it definitely isn't all rainbows and butterflies.)
One sentiment in particular of Ferrera's resonated with me the most. "I think that's been one of the mantras for me in all of motherhood—to try and not be so hard on myself, she told Health. "Which is a challenge because, like so many women, I demand so much more of myself than I would ever demand of someone else." As a mom of three — and a fourth on the way in just a couple of months — I can especially relate to this. One of the most difficult things for me as a mother was to ask for help. Because I should be able to happily "do it all," right? Except, in attempting to do all the things and live up to my own impossibly high expectations, I was making myself miserable.
On Instagram, Ferrera also shouted out the women in her life who've uplifted and supported her throughout her journey to motherhood. "So insanely grateful for the village of women I have in my life who have shown up to love, support and celebrate (all of me) in style as I transition into motherhood," Ferrera captioned a photo of her and a friend peeking their heads through a makeshift vagina (yes, really) with Amber Tamblyn standing over them.
As always, I appreciate when celebrities get real about parenting. Because Instagram has a way of making their lives seem perfect. (Which, yes, America Ferrera is still rich, famous, beautiful, and talented.) Even though I know social media only shows part of the story, it's comforting to have confirmation that celebrity parents share many of the same struggles as I do.