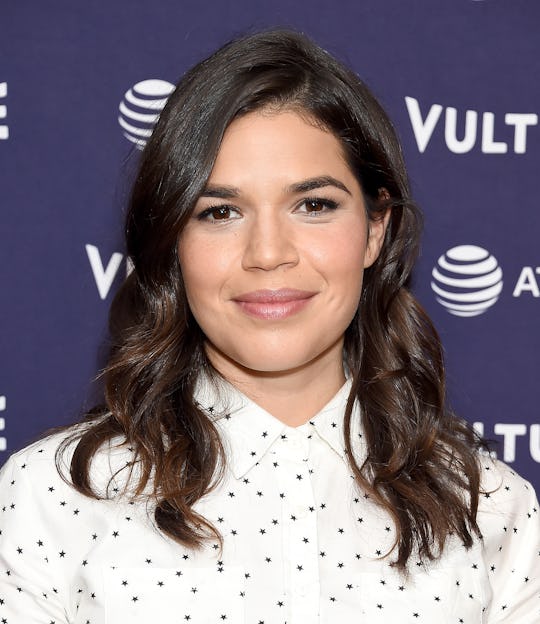 Gregg DeGuire/Getty Images Entertainment/Getty Images
America Ferrara's Instagram Story About Traveling With A Baby Is Too Relatable
It's a truth universally acknowledged that among all the challenges of parenthood, traveling with a child is the most daunting, especially if public transportation is involved. The spaces are cramped, strangers are unforgiving, and kids aren't their most cooperative when their routines are backwards and their little ears are being plugged by the air pressure of an ascending airplane. (To be fair, that last one is tough on everyone.) But America Ferrera's hilarious Instagram story about solo traveling with a baby is a great reminder that the best way to handle it is usually with humor.
Ferrera, who welcomed a son named Sebastian this past May, People reported, decided to document a plane ride with her now nearly 6-month-old baby.
The Instagram stories began with Ferrera informing her followers that she was about to arrive at the airport for her first flight with her "baby burrito," and polled fans to see whether their response was "Praying for you," or "You got this." Encouragingly, 73 percent of her followers who voted (at least, at that point) said she totally had it down. Next, Ferrera informed followers that her flight was delayed but that the baby was still sleeping... but that didn't last long. "I jinxed it," read the next story, featuring a video of Sebastian kicking in her arms. Next, Ferrera shared that boarding was a struggle, but that her son was asleep, and her seat mate was only mildly annoyed.
Finally, Ferrera posted a celebratory story to share that they were in fact finally descending in their destination, but that given Sebastian had slept in her arms the entire time, she hadn't moved for the whole duration of the flight, and her arms were numb (a sensation any mom can likely relate to).
"We're on the descent!!" she wrote. "Haven't moved my arm the whole time for fear of waking him. Worth the pain. Moms are the sh*t!!" Ferrera posted in front of a video of her mouthing the word "oww."
Finally, Ferrera posted a video of her husband, Ryan Piers Williams, giving Sebastian "raspberries" on his stomach. "We made it!!" she shared. "Destination: Daddy."
It's not the first time that Ferrera has been applauded for her very real depiction of motherhood. In fact, on Nov. 15, Working Mother reported that she posted a #WCW to every working mom out there, including a clip of her in an episode of Superstore, in which her character Amy had to go back to work only two days after delivery because she didn't have maternity leave.
Ferrera shared on Instagram:
I went back to work 10 weeks after having my son, and I simultaneously knew how lucky I was to have that much time compared to what so many women get (which in some cases is absolutely nothing) and how sad it is that we don't have more help & support built into our culture to honor the truly challenging and Herculean feat of bringing life into this world and caring for it. To all the Amys out there: I see you, I worship you, you are everything.
The actress shared previously that she learned a lot about commitment and work ethic from her own single mother. "My mom never took benefits and worked all her life, right up to today," Esme reported the actress previously shared. "She had an executive position where she made a decent salary, but she had a single income and was raising six children."
It's clear that Ferrera isn't just a phenomenal mother and actress, she's also an advocate and role model for any mom who questions whether or not she's good enough. Answer? We're all just doing our best... especially on airplanes.