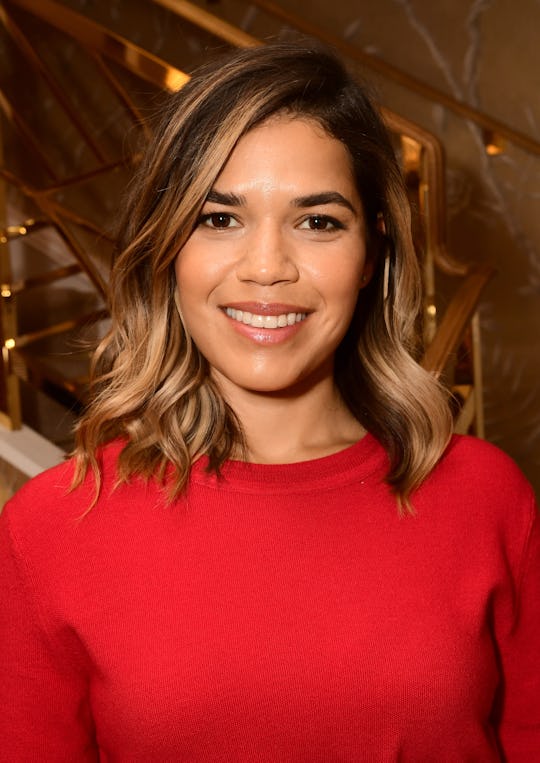 Emma McIntyre/Getty Images Entertainment/Getty Images
America Ferrera's BFFs Helped Her Prep For Childbirth At Her Baby Shower & The Photo Is Amazing
There's really no perfect way to prepare yourself for the first time you give birth. Nothing can quite explain that combo of wonder and discomfort (OK, lots of pain) and how they work together to give you a little miracle. But sometimes those veteran mom friends will try to give you an idea of what to expect, like America Ferrera, who got a hilarious lesson in childbirth at her baby shower over the weekend, thanks to her friends who she called her "village of women" in an Instagram post.
In the accompanying photo, Ferrera was joined by her friend Samantha Nye as they stuck their heads through a cardboard vagina lined in a pink feather boa and Sisterhood of the Traveling Pants co-star Amber Tamblyn stood behind them with a triumphant fist raised. Not sure what exactly the mom-to-be was supposed to be learning from this experience, but Ferrera seem to enjoy it nonetheless.
"Baby showers are for Practicing," she captioned the photo on Instagram. "So insanely grateful for the village of women I have in my life who have shown up to love, support and celebrate (all of me) in style as I transition into motherhood." She continued, "Boundless gratitude to my boos @todaytamara & @amberrosetamblyn for planning a magical and powerful celebration. And to @samlooksatthis for the gorgeous vagina."
The Superstore star was surrounded by close friends for her baby shower this weekend. She posted more photos on her Instagram account of co-stars from her years on Ugly Betty as well as a shot of her hugging the friend who apparently organized the shower.
"For witnessing me on this particular journey, and for planning a great #motherhoodcelebration even from the far reaches of your world travel. I love you dear soul sister," she captioned the post.
This wasn't the first baby shower for Ferrera. On March 18, she also posted a series of photos from another shower held at a Los Angeles restaurant that looked to be a tad more formal than her most recent bash. She commented that there were no "poopie diaper games," but there was plenty of dancing and fun with friends and co-stars from all her shows.
For her first child, it seems that Ferrera is definitely willing to lean on her village of friends and fans to learn about being a mom. She celebrated the New Year with her Sisterhood friends who all placed a hand on her belly. Her caption called for supporting the #TIMESUP movement to make things better for the next generation which, of course, includes her little one.
And she's crowdsourced ideas for books to read with her baby, too. In a photo she shared on March 1, she held up the childhood favorite Harold and the Purple Crayon and shared that it was the first book she ever memorized. "Can't wait to read it to the bump! Give me your favorite kids' books recs please!" she captioned the photo.
But Ferrera's social media isn't all about getting ready for baby. She is open about sharing her activism and support for things like the #TIMESUP movement and immigrant rights. She honored the history of her own immigrant family with one post and shared photos of her participation in a rally for immigrants, attendance at the Women's March, and wearing black on the red carpet in support of #TIMESUP. She's also shared photos of meeting both Hilary Clinton and former first lady Michelle Obama.
Ferrera previously told People that her Sisterhood cast mates have been giving her some advice about motherhood, but one pearl of wisdom has stood out to her. Regarding the birth, she told People:
They all were like, "get the drugs." So we'll see if I do. But I think it is a very sound piece of advice.
She also told the magazine that she hopes her baby will be close to the children of her Sisterhood friends. "It's so wonderful to get to grow up with other women who deeply understand the specific experience of growing up in this industry," she told People.
With a little luck, fans may get the treat of seeing the foursome of friends on screen again soon. A few days ago, Tamblyn and Alexis Bledel both spoke up to confirm rumors that another Sisterhood movie is being pitched, according to E! News. Regardless of whether that goes forward, it's nice to see how this foursome has grown into a sisterhood of motherhood, and they still share all the love.
Check out Romper's new video series, Bearing The Motherload, where disagreeing parents from different sides of an issue sit down with a mediator and talk about how to support (and not judge) each other's parenting perspectives. New episodes air Mondays on Facebook.