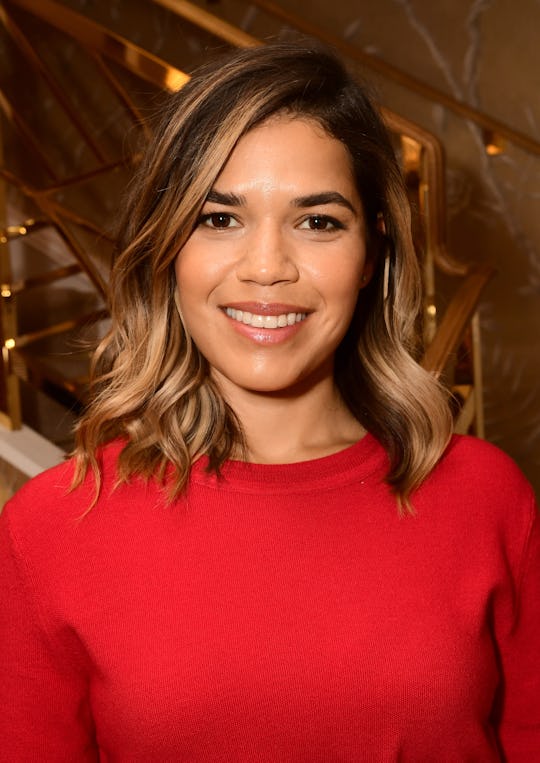 Emma McIntyre/Getty Images Entertainment/Getty Images
America Ferrera Shares Her Baby News With An Adorable Announcement
It's going to be a particularly happy new year for America Ferrera fans, following a big announcement from the actress on the last day of 2017. On Sunday evening, the former Ugly Betty star took to Instagram and Twitter to share a photo of herself and her husband of 12 years. But wait ... is that what I think she's holding? It is! And she is! America Ferrera is expecting her first child with her husband Ryan Piers Williams, and fans are so excited for her.
E! Online reported the actress shared her baby news on Dec. 31. "We're welcoming one more face to kiss in 2018! Wishing you #MásBesos in the New Year! #babybesos#HappyNewYear," Ferrera wrote, alongside an adorable photo of the parents-to-be holding a baby body suit. The tiny garment reads, "Mas Besos (por favor)" which translates to "More Kisses (please)". To top it all off, the expecting couple is each sporting a festive pair of 2018 glasses. (How precious!) People reports that Ferrera and Williams celebrated 12 years of marriage this past July with a vacation in Iceland. And from the looks of their faces in this too-cute-for-words pregnancy reveal, they couldn't be happier to begin this next phase of life together.
Ferrera and Williams first met when he cast her in his student film at the University of Southern California, reports People. Since then, she has appeared in more of Williams' movies, reports HuffPost. "We kind of connected from the get-go on that professional level and that was something that really drew us to each other," the mom-to-be told People in 2010. In fact, judging by their social media accounts, it seems like the couple has quite a few shared passions. Like helping DACA recipients to renew their statuses.
Or completely crushing triathlons together in their spare time.
Editor's Note: The Instagram post has since been deleted.
Or marching for women's rights.
Editor's Note: The Instagram post has since been deleted.
Or taking care of their "fur-babies" together.
Editor's Note: The Instagram post has since been deleted.
And seriously, how freaking perfect is this slo-mo video from their anniversary trip to Iceland?
Clearly, this baby will be born to two people who adore each other and have had a lot of time to spend together as a couple. (Of course, that doesn't automatically guarantee anything as far as parenting skills are concerned.) Quite frankly, though, sometimes wonder how my life would have turned out if I had done it the other way around — enjoying more time with my husband before jumping into the wild world of motherhood. Instead, I graduated from college at age 22, got married the next month, was pregnant by that Christmas, and gave birth the following summer. (Talk about a whirlwind introduction to "adulting.") Now that I'm three kids deep before age 30, I'm kinda thinking maybe Ferrera is onto something.
Let's just say that fans' reactions to the the Superstore star's impending motherhood has been, um, spirited. I'm talking GIFs and heart emojis and exclamation points galore. Twitter users couldn't hold back their excitement, that's for sure.
One legitimate question that's already been asked is whether Ferrera's character, Amy, on Superstore will now become pregnant.
After some serious fan-to-fan consultation, the possibility is still up in the air. Whether Ferrera is currently "showing" and how far along she actually is might play into it. Then again, plenty of actresses have been pregnant when their characters weren't. (Like Gal Gadot in Wonder Woman!) So there are a number of ways to work around a bump.
I first fell in love with America Ferrera as an actress back in the days of The Sisterhood of the Traveling Pants. Honestly, it's been pretty neat watching her co-stars — Alexis Bledel and Blake Lively — become parents through the years. I have a feeling America Ferrera is going to be a pretty fierce mama, too.