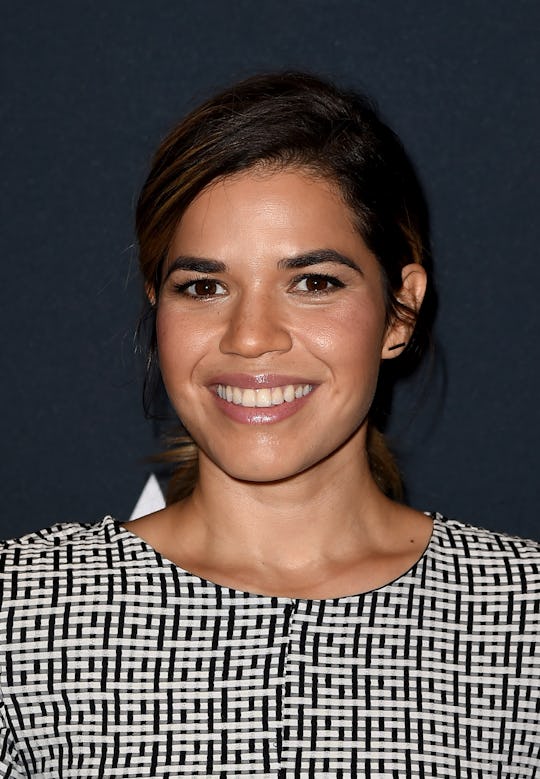 Kevin Winter/Getty Images Entertainment/Getty Images
America Ferrera Perfectly Explains Why The Midterm Elections Are So Important — VIDEO
After the Senate's decision to confirm Brett Kavanaugh to the Supreme Court over the weekend, there has never been a more important time to vote. While, at times, it's easy to feel powerless in this process, Americans do hold power in getting to choose who represents their voice in public office. And if you're not convinced that you need to vote this November, please listen to America Ferrera perfectly explain why the midterm elections are so important — especially right now.
Ferrera is not only an actress on some beloved TV shows, she's a mother, author, and a political advocate, according to ABC News, using her platform and her popularity to bring attention to some very big issues in the United States. She isn't afraid to speak out about the injustice she sees in the current political administration and she's passionate in helping others find their own voice to wage a fair fight.
On Sunday, comedian Amy Schumer reposted a video of Ferrera's explaining what the midterm elections are (and why they're so significant) to a wider audience who might be confused or unsure.
"Every two years, in the middle of a president's term, we vote for who sits in the House of Representatives and who sits in the Senate," Ferrera said in the video. "Now these are the people who are supposed to keep a crazy president from destroying our country."
This election takes place one month from now — on Nov. 6, according to The New York Times. So it's not too late to get up to speed on everything you need to know.
But Ferrera wasn't done there. In the video, she continued to explain to viewers that midterm elections are very special because when these senators and representatives "fail to protect" their constituents and "take away their health care," they can vote in a better politician to replace them in office.
Her explanation is simple, to the point, and does an amazing job at setting out what is at stake during the midterm elections — voting for people that have a major impact on your life based on where they stand on the issues. With that in mind, people should check to see if they are registered to vote (and, if not, find out when the deadline to register to vote in their state is). Although the comments on the Instagram post are less than agreeable with Ferrera's message, it only highlights the importance of this — vote for who think will best represent your voice and your beliefs, no matter what your political affiliation is.
As Ferrera stated, the midterm elections are huge — like, just as important as voting for the President of the United States every four years. This election determines which party will be running the House and Senate, therefore having an impact on the bills that get passed and the policies that are enacted.
But the midterm elections aren't just for voting in people to power in the nation's capital — they're also meant for voting for local politicians who represent you in your current city and have a huge impact on local policies, according to The New York Times.
This isn't the first time that Ferrera has talked about the significance of the midterm elections — anyone who follows Ferrera on social media knows that she wants everyone to get out and vote. During a recent appearance on Late Night with Stephen Colbert, Ferrera once again talked about how imperative it is that people vote in the midterm elections, according to the Daily Mail. Ferrera said:
This is our chance. This is our chance to put a check on the insanity that is happening in this administration. And if we don't show up to vote, we're giving up the chance to put a check on it.
If Ferrera's Instagram videos didn't convince people to vote in the midterm election, then her appearance on Late Night with Stephen Colbert, will. Her words not only highlight how much is at stake, but also the lasting impact the midterm elections have. So as Ferrera has been urging, get out and vote on Nov. 6.