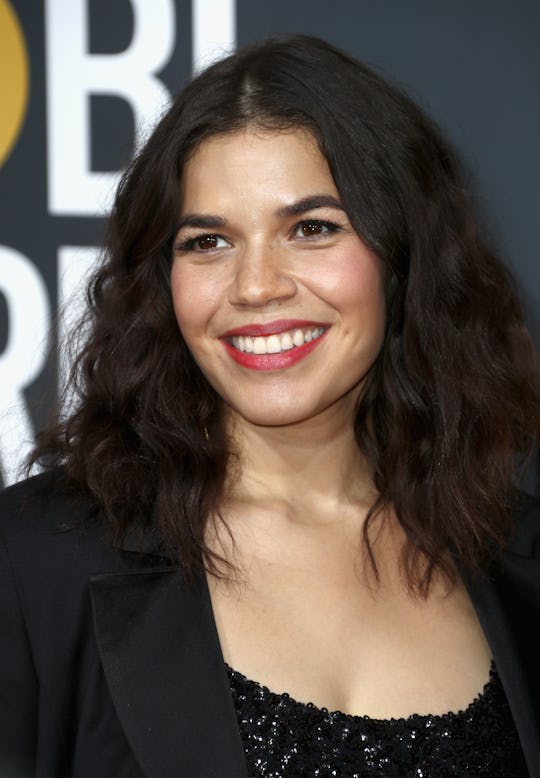 Frederick M. Brown/Getty Images Entertainment/Getty Images
America Ferrera's Instagram Story About Multi-Tasking While Pumping Is Relatable AF
In the age of social media, celebrities are able to communicate with fans and keep followers updated about their day-to-day lives like never before. This direct line of communication is invaluable for things like promoting an actor's upcoming movie, or revealing a makeup mogul's newest line. But it's also neat for fans because they're able to catch regular glimpses of celebrities' personal lives — including adorable updates about their children, along with the highs and lows parenthood brings. And honestly, America Ferrera's Instagram Story about multi-tasking while pumping is relatable AF.
On Friday, Aug. 24, the actress offered an honest look at her day spent recording the audio book for American Like Me. As a breastfeeding mom who was away from her little one in order to work, Ferrera naturally needed to pump at some point. And so she did what many nursing moms end up doing on a regular basis: She multi-tasked like a boss. In a series of video clips posted on her Instagram Story, Ferrera showed the title page of the book on an iPad, a smiling shot of herself getting ready to recording, and an ultra-relatable clip of herself actually recording — while pumping breastmilk. "Multi-tasking. Cause: Mom," she captioned the clip, which included hearts strategically placed over her nipples.
As a breastfeeding mom who previously worked outside of the home — and therefore logged many hours pumping while on the job — I can totally relate to America Ferrera right now. (And I'm pretty sure I'm not the only one.) Sometimes, a looming deadline meant that I would spend my pumping sessions typing away or being productive in other ways while extracting milk for my baby. Because a nursing mama's gotta do what a nursing mama's gotta do.
As E! Online reported, Ferrera welcomed her first child with husband Ryan Piers Williams — a baby boy they named Sebastian — in May. The actress officially confirmed the news via Instagram on May 29, with a photo of her little guy's tiny, precious foot. She captioned the sweet shot with, "When 2 become 3... Welcome Sebastian Piers Williams - aka Baz! Mom, Dad, and Baby are happy, healthy and totally in love!" *Swoons*
Although Ferrera hasn't yet shared too much about her new role as a mom, she has posted a few photos on Instagram to keep fans updated on how her life has changed. As Glamour reported, the new mom shared a photo of herself nursing baby Sebastian earlier in August, in honor of World Breastfeeding Week. Although her son's face was purposefully obscured by the face of a cartoon baby, her message was both witty and incredibly important. "They're my boobies, and I'll feed where I want to - feed where I want to - feeeeed where I want to," she wrote, along with the hashtag #worldbreastfeedingweek. Yass. Power to the boobs!
Thanks to social media, fans are able to have a more well-rounded look at who their idols really are. (I mean, in what other outlet would a moment like this be shared?) Because not only is Ferrera a kick-*ss actress, singer, and advocate for keeping immigrant families together, according to People — she's also a fierce mom who faces the same struggles many of us non-famous folk do.
Judging by a lack of baby face shots, Ferrera is making her son's privacy a priority from the start — something that more and more celebrities seem to be getting on board with. At the same time, she's still able to offer followers an honest look into her life as a working mom, which I'm sure plenty of followers appreciate. Because as rich and famous at Ferrera might be — unlike the majority of her followers — at least they can relate to her all-to-real mom moments.