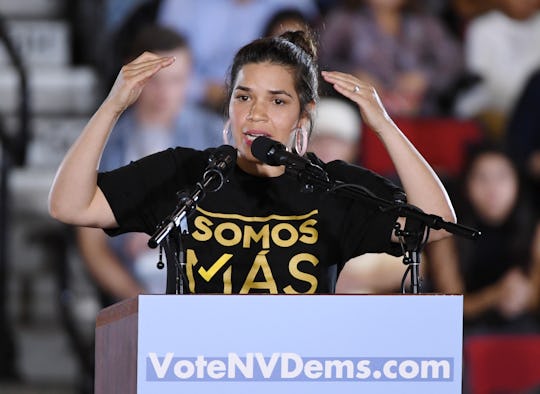 Ethan Miller/Getty Images News/Getty Images
America Ferrera Took The Most Badass Pumping Selfie While Campaigning For The Midterms
Along with being a seriously talented actress, America Ferrera has made a name for herself as a dedicated mother, published author, and strong political voice. Needless to say, she blends these roles perfectly. And Ferrera's pumping selfie while campaigning for the midterms is just further proof that she's one badass mama.
On Monday morning, Ferrera was busy making the rounds in Miami with Eva Longoria, Rosario Dawson, Zoe Saldana, and Gina Rodriguez rallying the public in preparation for Election Day. The group was marching through the streets with crowds of hundreds, chanting "Si se puede," or "Yes we can," as USA Today reported. But in the midst of all that, Ferrera still had her son to care for and took a minor break from her political activism for an early morning pumping session.
She posted a photo of her pitstop to her Instagram Story, captioning it "Wake up Miami! (and sleepy pump in the airport bathroom.")
Along with her political messages, Ferrera frequently shares her breastfeeding journey on her Instagram. In past Stories, she has shown herself pumping while working — aka narrating her book — as well as pumping late into the night. She also explained with a catchy little ditty in a post for World Breastfeeding Week that she's not here to hide while feeding her baby. "They're my boobies, and I'll feed where I want to- feed where I want to – feeeeed where I want to… #worldbreastfeedingweek," she captioned the photo.
Ferrera isn't one to sit on the sidelines. She was out with the people of Miami advocating for minority voter turnout, a cause that is near and dear to her heart. She explained to the Associated Press that she and her fellow activists weren't there to represent Hollywood, but to represent the United States:
We're not out here as celebrities or actors or our professions. I'm the daughter of immigrants, I am a true blue American, I bleed red white and blue.
Ferrera, Longoria, Dawson, Saldana, and Rodriguez also filmed commercials earlier in the day in support of their preferred candidates, according to USA Today. In her spot, Ferrera explained that their cause was not about one political party or another:
I vote as an American and I'm out here rallying my fellow Americans to get out their vote because when we show up, our democracy will work better for us.
This is far from the first time that Ferrera has spoken out about the importance of voter turnout. In an interview with Glamour, she shared that she has been involved in elections for a decade now, but this year is unique:
Everything that I care about, everything that I believe in, the idea that I grew up with about our country — who we are, what we are, and why we are — that's all up in the air, and it feels truly like, this midterm election [will] be our opportunity to either negate what's been going on in our country in this administration, or allow it [to] change the very fabric of who we are.
She went on to explain in the interview that democracy only works when people show up. Along with voter turnout, Ferrera has a lot of passion for the midterm elections as well. She touched on the topic in her Glamour interview, but went in depth talking about the importance of the midterms in an Instagram video that Amy Schumer later shared, as the Daily Mail reported.
"Every two years, in the middle of a president's term, we vote for who sits in the House of Representatives and who sits in the Senate," Ferrera explained in the video. "Now these are the people who are supposed to keep a crazy president from destroying our country." Her simple, straightforward explanation of the whys and hows of the midterms is another example of her political knowhow and determination to make a difference.
As she explained in her video, the midterm elections are of paramount importance. The coming election will decide who is in charge of the House and the Senate, which in turn impacts the coming bills and policies. If Ferrera can find time and pump, we can all make it to the polls on Nov. 6.