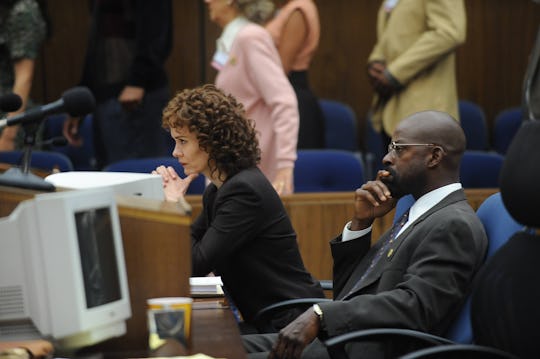 FX
'American Crime Story' Twitter Reactions Prove That People Are Just As Fascinated With The O.J. Simpson Case As Before
As soon as Ryan Murphy's newest anthology series American Crime Story premiered Tuesday night, Twitter was buzzing. From the opening scene it was evident that the show would be an intense retelling of the true life murder case. The People vs. O.J. Simpson opens not with O.J., but another jarring event: real footage of the Rodney King video and the subsequent, chaotic 1992 riots.
On Twitter, some commented that the footage had set the scene for what race relations were like in the early 1990s (which some older viewers might remember). Millennials tuning in may not recall what was going on at the time. But no matter which generation you're from, you can clearly still feel the tension surrounding the graphic case from American Crime Story's beginning. Within minutes of the premiere, Twitter was blowing up with tweets from younger viewers who either remember bits and pieces of the case, and those who did not know any details at all.
American Crime Story was gripping from the start. Initial reactions didn't let up either, with the intensity of the real life case keeping audiences (and social media users) glued to their screens, tweeting their moment-to-moment reactions in real time:
Throughout the first episode-- clocking in at over an hour long-- viewers used the hashtag #ACSFX to voice their feedback. This installment covered the events from immediately following the murder to the start of the infamous Bronco chase. From start to finish, the show provided a powerful look at the now decades-old case, and Twitter took note:
Some viewers chose to tweet about behind-the-scenes aspects of American Crime Story as opposed to its content, in particular, the casting, which included Cuba Gooding Jr. as Simpson and Sarah Paulson as Marcia Clark:
The show's cinematic style was also a topic of discussion:
Of course, others on Twitter neglected to comment on the show itself entirely. Instead, they opted to share how they had celebrated the premiere, including showing off their themed baked goods:
If social media is any indication, American Crime Story will surely be a thrilling show to tune into. And while one can simply Google what happened during the O.J. Simpson trial if they're really itching to know, the show still won't be "spoiled." The intensity of American Crime Story clearly does not lie in finding out what happened, since most viewers already have an idea. What makes American Crime Story suck viewers in instead is the gripping style, entertaining cast, the polarizing nature of the case itself, and, of course, the chance to discuss everything that goes down on social media.