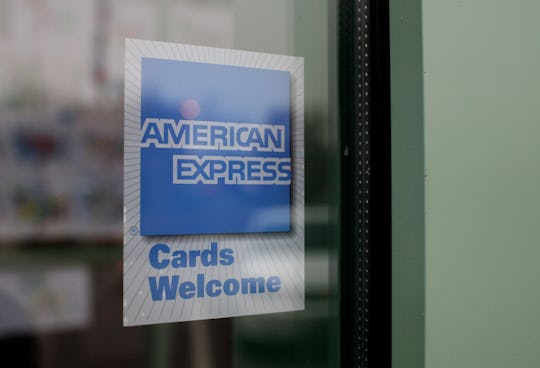 Justin Sullivan/Getty Images News/Getty Images
American Express' Parental Leave Policy Is Commendable On So Many Levels
There's good news for advocates of federally established paid parental leave, as another private company has taken a step toward adopting a generous policy, setting the bar for other companies to follow suit. On Monday, American Express announced updates to its parental leave policy, and it's pretty commendable in a few ways. Beginning in 2017, the financial services company will offer paid parental leave for both mothers and fathers, with 20 weeks of full pay and an added six to eight weeks for surrogate mothers who need medical leave. Anyone who's worked at the company for at least a year, either full or part time, can take the leave.
It's a pretty big update since, until now, the company only gave six paid weeks for a primary parent. "Secondary caregivers," whatever that means, used to get two weeks of paid leave. Just like fancy benefits that come with being a cardholder, American Express is going a step further with its new policy.
Employees who are expecting also have access to a "parent concierge" to help walk them through the company's benefits for families. New parents will also get a lactation consultant and breastfeeding moms who come back to work and have to travel will be able to ship their breastmilk on the company's dime.
In addition to all of that, the company will also give employees $35,000 for adoption or surrogacy for up to two kids. They'll also offer up to $35,000 coverage for infertility treatments, which, as anyone who's had to undergo IVF knows, can help cut some of the costs. Adoption and surrogacy benefits used to be capped off at $10,000 and $20,000 for infertility treatment.
All it took to update the parental leave policy was talking with employees. Kevin Cox, chief human resources officer for American Express said that employees wanted a more well-rounded way to start their families while remaining with the company. Cox told Fortune that there's "a diversity dimension at play," since the new policy covers LGBTQ parents too.
It's still a shame that the private sector has to pick up the slack where the government has arguably failed, at least when it comes to paid parental leave, since there's no federal policy that guarantees time off and financial safety for parents in the work force. And American Express isn't just picking up slack, it's changing things for the better, along with a handful of other forward-thinking companies: As mentioned, the policy includes part-time workers as well, which ensures that those on the lower end of the earning scale in the company aren't left out.
Paid parental leave policies like American Express' are good for business, too. It's a better way to retain talent and ensure that when new parents show up for work, they aren't too busy worrying about their financial situation or job security if they want to start a family. The lactation counseling and breastmilk shipping is also in line with current physicians' recommendations, and ensures that no mother is tearing her hair out trying to figure out how to "do it all."
"Doing it all" is sort of impossible, as we all know, but parental leave policies like American Express' are a big step in the right direction, in terms of making it easier to juggle the career and family you love.