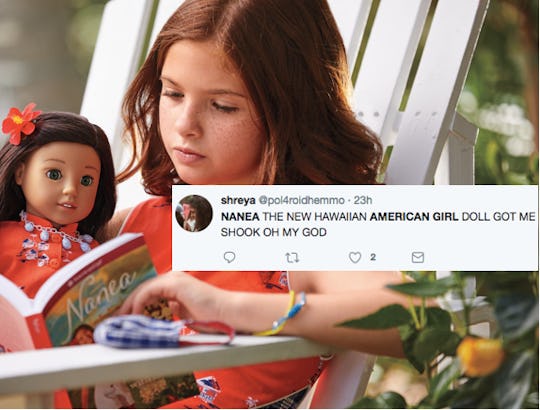 American Girl
The Newest Doll To Join The American Girl Family Is Seriously Important
I know, I know. You're supposed to outgrow your love of dolls at least by the time you're in high school, right? I get that. I respect that. But the thing is, the newest American Girl doll, Nanea, sounds seriously amazing and I (really) want one right now, despite that bottle of retinol sitting in my Amazon shopping cart. According to a statement from the company, the newest American Girl doll to hit store shelves will be named Nanea Mitchell, and she sounds like a total girl boss.
Per the company's statement, Nanea is a " Hawaiian girl growing up on the island of Oahu in 1941." And not only will the Nanea doll be the company's first Hawaiian doll, "Nanea's story focuses on the bombing of Pearl Harbor and its aftermath," which means everyone who buys a Nanea doll will also get a history lesson along with it.
Of course, all American Girl dolls come with their own personal background and story, usually tied to an important piece of American history, but Nanea's story was specifically designed with a "five-member advisory board—including an eye witness to the Pearl Harbor attack—" according to the company. And yes, Nanea is available for purchase online and in stores.
Not only is Nanea super awesome, but her release also comes with a charitable aspect. From now through the end of the year, American Girl "will match any customer donation, up to $75,000 maximum, made at americangirl.com or at any American Girl store in the U.S.," to the American Red Cross' Service to the Armed Forces initiative, which seeks to support veterans, as well as other members of the military, and their families. "They will also donate $575,000 worth of its signature 18-inch dolls to provide comfort in times of need. "
And that's not all. American Girl is also hosting a giveaway for one lucky family. On the American Girl website, fans can enter the "Nanea Island Inspiration Sweepstakes for the chance to win a getaway for four to Oahu."
And even if you got rid of your American Girl collection long ago, it's still important to recognize just how awesome it is to see some new representation from the American Girl doll franchise. Because while Nanea might be the first Hawaiian American Girl doll, she'll hopefully set the stage for more kinds of representative for kids everywhere.