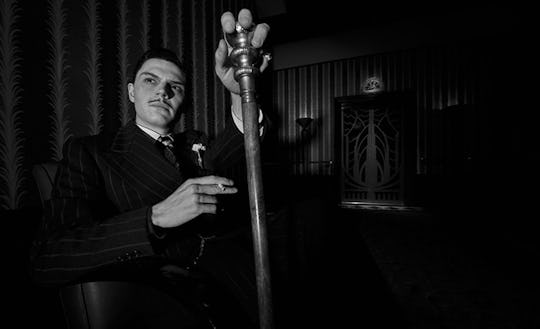 FX Networks
'American Horror Story' Season 6 Has Been Confirmed & Here's What I Need To See, Ryan Murphy
Scary good news: FX has renewed American Horror Story for Season 6, according to Variety. As always, co-creators Ryan Murphy and Brad Falchuk will be telling a whole new story in a new setting, but will probably include some familiar faces and perhaps a reference or three to the other seasons, which are all interconnected and exist within the same universe. No word yet on who will appear in Season 6, or what the theme will be, but it's pretty close to confirmed that Evan Peters is a go, and it will not be in space. Peters, who's currently appearing in Season 5, and is one of the few actors who has appeared every season, told Vulture last month that he's been pitching a space setting to Murphy, who's not having it.
Just like every season, fans of the series will inevitably be expecting big things. But Murphy and Falchuk are busy dudes. AHS began while Glee was still in production, and although that's now through, they two are also hard at work on the delightful Screen Queens as well as the upcoming American Crime Story, a miniseries about the O.J. Simpson trial featuring some of the most hideous wigs in Hollywood. They can't fit in reading every message board and Tumblr about American Horror Story into their daily lives. So they need help. And I think I'm the right person for the job. Here, what fans want to see in AHS Season 6:
No UFOs This Time, Please
I know Evan Peters wants to go back to that subplot from Asylum where his wife was abducted by aliens, and then his girlfriend was abducted by aliens, and then they came back and lived as a throuple and raised children together because aliens, but that storyline verged on being even too bananas for the American Horror Story universe. If you want proof, go back and read that last sentence again. No aliens, please.
Angela Bassett is a Must
YASSSSS, QUEEN! I don't care what some witch council says, Marie Laveau is my Supreme. She steals every scene she's appears in, and rightly so. I don't even care if you give her three boobs again.
No More Musical Numbers (Sorry Glee Fans)
More scares! Fewer show tunes!
An Awesome Twist
Remember when we all thought Tate was just a slightly troubled boy next door? And then we learned he was a ghost? And then we learned he was a bad ghost? We liked that. See also: When we found out Pepper was actually set up, and when we learned who really blinded Cordelia.
A Pause Button On The Weird Sex Stuff
The series began with Dylan McDermott masturbating while crying. That was tame compared to what we saw as the seasons progressed. We've seen Rubber Man, a whole bunch of run-of-the mill rapists (can't believe I just typed that), minotaur-on-human sex, and a Frankenstein's monster who was the victim of incest. And this season started with Schmidt from New Girl getting violated with a spike, and Lady Gaga's doing vampire sex stuff in every damn episode. Maybe AHS' characters should consider abstaining for a season? 
More Characters Based on Real Killers
Look, I'm not saying AHS can't write a good killer yourself (Dr. Thredson was awesome), but I personally love a character that's based on a real-life killer, like Delphine LaLaurie, Marie Laveau, or James Marsh (based on H.H. Holmes). Reading about the real evil deeds that inspired the characters makes them that much more compelling to watch. On the other side of the coin…
But... We Could Do Without This
That Devil's Night dinner party with Aileen Wuornos, Jeffrey Dahmer, and the gang? Not scary at all. Please, please don't repeat that. Give us lesser-known killers! Think the Bloody Benders, not BTK.
Follow these simple rules, Ryan and Brad, and I'm sure American Horror Story's sixth season will be a hit with fans. 
Image: FX Networks