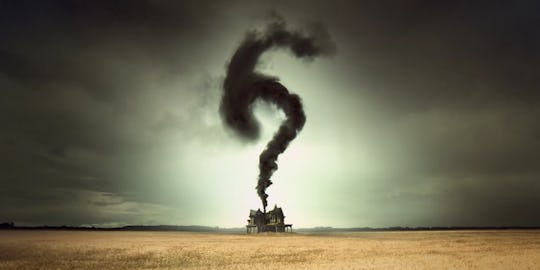 FX
These 'American Horror Story' Season 8 Theories Predict The Horrors To Come
The seventh season of American Horror Story is rushing towards its shocking conclusion, whatever that conclusion might be, and that means it's time to start thinking about the theme that will dominate next season. It's never too early, especially since the show has already been renewed through Season 9. These American Horror Story Season 8 theories try to figure out what direction the show might take, especially since so much ground has already been covered.
American Horror Story has taken on supernatural monsters and murderers who were all too real. It has covered ghosts and vampires and witches and even aliens, for a minute or two. It has served up gory death after gory death, and rewarded its fans with a few iconic moments that rose above the general craziness. It's made Sarah Paulson change her hair color from blonde to brown and back so many times her hairdresser must be dizzy. It's difficult to imagine where it can go from here, but it's a guarantee that it will find something fascinating (and horrifying) to entrance its audience yet again. It's done it seven years in a row, so it's pretty much a guarantee.
And just in case Ryan Murphy is fresh out of ideas, fans have come up with more than a few.
It Connects To 'Coven'
As the show went on, the seasons started to parallel each other in small ways: Hotel shared several connections with Murder House, as did Cult with Asylum. This theory posits that Season 8 will be in some way connected to Coven, either by revisiting some of its key characters or its themes.
Viva La Revolución
Reddit user Musain suggested that Season 8 will be set during the Revolutionary War due to a few possible clues dropped in Season 7. The word "revolution" has been mentioned more than once, and royalty imagery has also been a part of Cult. Those could be hints about what's to come.
Turn Back Time
Many of the recent seasons of American Horror Story have been grounded in the present day, so some fans (like Redditor sethrb101) think it may be time for another season set in the past. It's impossible to tell what era the upcoming season could take place in, but a throwback could be on the horizon.
The Antichrist
Fans have been obsessed with Tate Langdon's demon spawn ever since the first season ended on the toddler bloodily dispatching his babysitter. It's possible that Season 8 of American Horror Story could revisit a slightly grown up Michael Langdon. Reddit user StripperGirlDelilah even theorized that Michael could end up the protégé of politician Kai Anderson, as another way to connect the seasons.
Butte, Montana
American Horror Story often drops a clue or two about the upcoming season in the current one, and a Redditor with a now-deleted account noted that the town of Butte, Montana has been mentioned more than once in Cult. Perhaps that will be the setting for Season 8.
The Truth Is Out There
Reddit user Kitty_Rabe wondered if Season 8 might focus specifically on aliens, especially because they haven't really been explored on the show before. Aliens only showed up briefly (and rather confusingly) in Asylum. Perhaps if the Butte setting does happen, then it could be about aliens in a small town.
A Crossover Season
Reddit user grabitoe is convinced that Season 8 will be a crossover season that brings in numerous different characters from different seasons. That could be true, as Ryan Murphy said in an interview with Entertainment Weekly in October 2016, "We do know what we're going to do. It's not going to be next season, but we are going to do a season that's a crossover between Murder House and Coven together, which is very bizarre." Since "next season" was Season 7, that could mean the crossover is Season 8.
Summer Camp Slasher
Fans like Redditor ThatsSoRonan have wanted a summer camp slasher from Murphy for years, with many hoping that the second season of Scream Queens would have shifted to a camp setting. Since that's no longer possible due to the show's cancellation, American Horror Story might pick up the slack. Next season could be the perfect time for it.
There are so many possibilities for American Horror Story Season 8, but fans will have to wait and see what happens.
Check out Romper's new video series, Romper's Doula Diaries:
Watch full episodes of Romper's Doula Diaries on Facebook Watch.