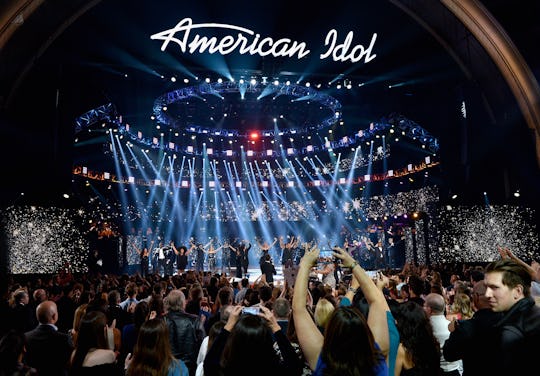 Kevork Djansezian/Getty Images Entertainment/Getty Images
'American Idol' Is Returning, But It Has A New Home
When American Idol took its final bow just one year ago, viewers weren't really surprised to see it end. Though the show had been a phenomenon for years, its popularity had waned and it was overtaken by shinier, newer talent shows like The Voice. It was no longer the ratings draw it used to be, so it felt like the show was coming to a natural conclusion after well over a decade on the air. But current pop culture trends dictate that no defunct property can be allowed to lay fallow for very long. Everything must be revived and rebooted, to varying degrees of success – and this is no different. American Idol is returning to ABC, though it's sure to undergo some changes in the process.
The biggest and most obvious shift will take American Idol from Fox, which had been its home for fourteen years, to ABC. Though there was interest from both Fox and NBC, ABC ultimately got the rights to the show; Ben Sherwood, the co-chairman of Disney Media Networks and president of Disney-ABC, insists that the match is a perfect fit. "American Idol on ABC...that has a nice ring to it," Sherwood said. "Idol is an entertainment icon, and now it will air where it belongs, in ABC's lineup of addictive fan favorites alongside Dancing with the Stars and The Bachelor. America, get ready for the return of a bigger, bolder, and better-than-ever Idol."
Despite the bold claims, there aren't many details available about what the new version of American Idol will be like. Some changes seem certain and others are possibilities fans can only guess at.
Makeover Montage
In addition to moving house, the shift from one network to another might result in superficial changes: when it returns, American Idol might end up looking slightly different or introducing some tweaks to its format. ABC will likely want to keep the show recognizable, but still make it their own.
The Host
This is still a big question mark. Though longtime host Ryan Seacrest is not currently attached to Idol, he did recently join ABC's Live! as Kelly Ripa's co-host, so it is possible the network could work something out. However, Seacrest does have a busy schedule; he might not be able to fit both Live! and Idol in.
The Judges
American Idol cycled through judges more than a few times while it was on Fox, and so far no one has been announced for the newest version of the project.
Another Dimension
Creator Simon Fuller mentioned revamping the show in an interview with The Hollywood Reporter, saying, "We can look back on fifteen seasons and think of some legitimate ways to allow people to enjoy them again, maybe adding another dimension to it."
But what exactly does that mean? Viewers who have witnessed the tragic revamping of formerly beloved reality TV shows (cough Top Model cough) may wonder if Idol will try to work social media into the new season somehow. It would fit with the at-home voting aspect of the original show, and it's just the kind of cringeworthy thing that would be right at home on Idol.
Get Ready For Cross Promotion
There's no way ABC is going to let this show go without working in as much Bachelor and Dancing with the Stars cross promotion as they possibly can. DWTS contestants busting a move to the newest Idol tune? Bachelor couples smiling banally through orchestrated love songs? How could the network resist?
American Idol once pulled in staggeringly high ratings and produced some genuinely successful artists, but only time will tell if it's able to pull off the same trick twice.