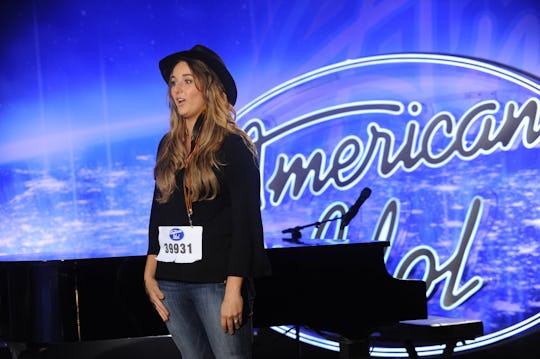 Craig Blankenhorn / FOX
'American Idol's Jenna Renae Is Already A Star In Her Own Right
In the middle of Wednesday night's American Idol auditions, viewers were treated to a few familiar faces. After MacKenzie Bourg of The Voice serenaded Harry Connick Jr., Jennifer Lopez, and Keith Urban with his own mash-up of the judges' most popular songs, eagle-eyed audience members got a glimpse of another fan-favorite, Jenna Renae. It's not the first time Idol's Renae has made an appearance on reality television either.
Renae made it through to the Hollywood round on Wednesday night, but she's got a lot of experience handling big time nerves, thanks to a previous turn on the popular NBC show America's Got Talent. In July 2015, the singer/pianist wowed AGT judges with a tragically un-aired rendition of Elvis Presley's "Can't Help Falling in Love." The performance earned her a standing ovation, but Renae was later cut just before the season's quarterfinals.
Luckily, Renae's talent isn't going anywhere. At Wednesday's Idol auditions, the self-described country music singer left judges speechless with her emotional version of Eric Paslay's "She Don't Love You."
"I think you're a very soulful young woman," judge Connick explained afterward. Added Lopez, "I feel like a lot of the people that have come in today, we haven't really felt [any of them were] performers, someone who could be that whole package — and I feel like you [are]."
For her part, the Webster Christian School and Nazareth College grad is just excited to be back on the road to success. "I still can't believe I am living out my childhood dream of being on #AmericanIdol!" Renae tweeted this week, posting a home video of herself as a little girl, singing into a kiddie microphone. (Adorable, right?)
Whether or not Renae makes it to the final round of Idol competition is yet to be seen — but given that the Arizona resident has already captured the eye of at least a few big execs (most notably producer John Mandeville of Artist Map) and is busying herself with getting her solo career underway, she'll be going home a winner whatever happens.
Images: Craig Blankenhorn / FOX