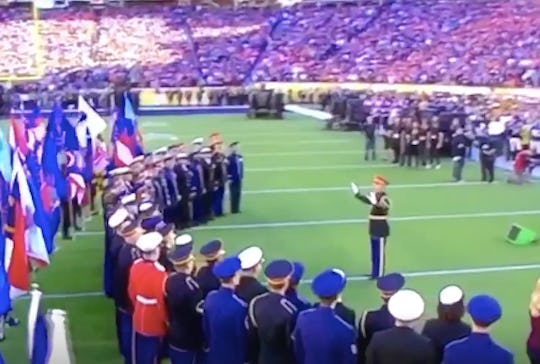 "American The Beautiful" Super Bowl Performance By The Armed Forces Chorus Was Perfect
When it comes to the songs associated with the Super Bowl, the focus tends to be on the national anthem, so it's easy to forget that every broadcast also features someone singing "America the Beautiful." And the 2016 "America the Beautiful" performance by the Armed Forces Chorus did not disappoint.
"America the Beautiful," written by poet Katharine Lee Bates, was first published on July 4, 1895 and later put to music, according to the Gilder Lehrman Institute of American History. Bates said it was inspired by a visit to Pike's Peak in 1893. It was used with several different pieces of music, but S. A. Ward's "Materna" stuck, and that's the tune we hear it sung to today. At recent Super Bowls, the song has been performed by the likes of John Legend (2015), Queen Latifah (2014), and in 2013, heartbreakingly, the children who survived the Sandy Hook massacre performed the song along with Jennifer Hudson.
The NFL announced Feb. 4 in a press release that this year at the Super Bowl, the song will be sung by the Armed Forces Chorus. The Armed Forces Chorus is made up of "50 U.S. Service men and women from the premier military bands in Washington DC representing the Army, Marines, Navy, Air Force and Coast Guard," according to the release, proving that serving and protecting the citizens the the U.S. are not the only skills possessed by these incredible men and women:
Pretty inspiring.