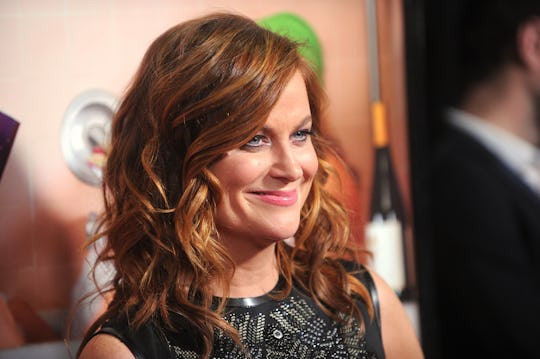 Amy Poehler Wasn't Nominated For A Golden Globe, & The People Of Pawnee Are In Tears
Parks and Recreation fans, it's a sad day in Pawnee. Amy Poehler wasn't nominated for a Golden Globe, and fans are notably upset. After Parks and Recreation premiered in 2009, it took until 2012 for Amy Poehler to snag a Golden Globe nomination for Best Performance by an Actress In A Television Series — Comedy Or Musical. While fans were vocal about hoping Leslie Knope would take home the prize, Poehler lost to Laura Dern, who won that year for her performance in Enlightened.
She was nominated again in 2013 (Girls' Lena Dunham got the award) before finally winning in 2014. Last year, Poehler wasn't in the category: nominees included winner Gina Rodriguez (Jane the Virgin), Lena Dunham (Girls), Edie Falco (Nurse Jackie), Julia Louis-Dreyfus (Veep), and Taylor Schilling (Orange is the New Black). But given her previous nominations (and obvious talen), many assumed she was nominated for an award in 2015, including Matt Lauer. On the red carpet, the Today Show host introduced Poehler and her PIC, Tina Fey, by saying, "Amy's nominated for Parks and Recreation." To save Matt (and our souls) from eternal shame, Amy let the moment roll of her shoulders completely, not even bothering to correct him.
To date, Parks and Recreation has only ever received four Golden Globes nominations, three of which went to Amy Poehler for her acting. In 2014, the series earned a nod for Best Television Series – Comedy Or Musical, but would later lose out to Brooklyn Nine-Nine.
Set in fictional Pawnee, Indiana, Parks and Recreation followed city government employee Leslie Knope (Amy Poehler) in what began as an attempt to build a park on top of a pit and turned into seven amazing seasons of low-key hilarity. The series ended in February 2015, making this year's Golden Globes nominations even more important to fans of waffles, Li'l Sebastian, and the iconic Ron Swanson.
Amy's yet to publicly comment on this morning's Globes announcements, but she didn't necessarily have to — fans have answered the call for her.
Image: Brad Barket/Getty Images, Giphy (1)