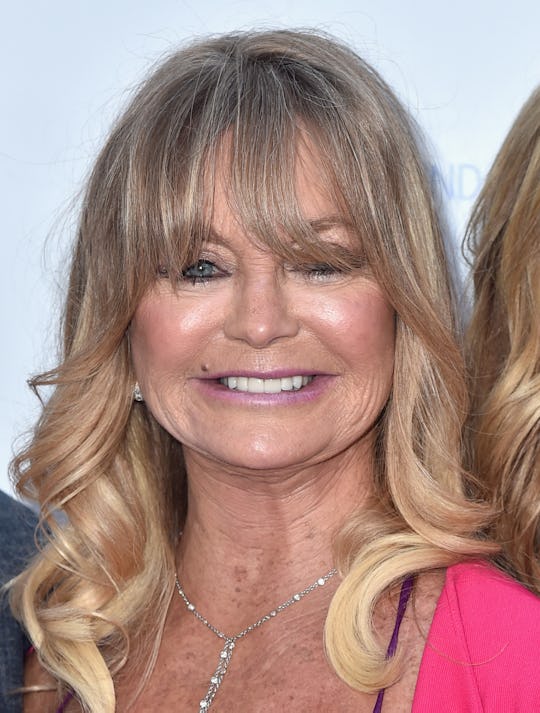 Alberto E. Rodriguez/Getty Images Entertainment/Getty Images
Amy Schumer & Goldie Hawn Recreate 'Formation' But You'll Have To Work To See It
If you need some new celeb #dreamsquad members, watching Amy Schumer and Goldie Hawn recreating "Formation" while on set filming Mother Daughter in Hawaii will probably do it for you. It's only available exclusively on Tidal, so it's obviously been approved by Beyoncé and Jay Z. It also means that if you've already used your "free trial" for Tidal to watch Lemonade last spring, you're going to have to someone who's stuck around and paid for the streaming service (if you forget that you signed up for Tidal and have been paying for it without really knowing all this time, help a sister out because it's pretty funny).
Wanda Sykes and Joan Cusack also get in on the dance party, making it the most perfect few minutes of your life. It's a weird song for the two women to parody, really though, since the original is all about racial and identity politics. Which I suppose is sort of the point.
In one scene in the video, Schumer and Hawn are wearing "Texas Bama," echoing one of the lyrics in the song (Beyoncé sings, "My daddy Alabama, mama Louisiana, you mix that negro with that creole, make a Texas bama.") "Texas Bama" used to be a derogatory term for southern blacks who moved north and implied being a "redneck." But if Bey's cool with Schumer and Hawn silk screening it on a t-shirt, who can judge?
Plus, watching Schumer and Hawn try to work out the choreography pretty much steals the show.
The chemistry between Schumer and Hawn is obviously pretty good, so their movie should be worth it. Hawn has been in retirement for over 15 years (yes, if you can remember Hawn's last movie, that means you're old) but decided that the film was worth doing and hey, at least Kate Hudson wasn't cheesy enough to do an actual mother-daughter movie, because that would be absolutely terrible on principle. Schumer is a much better stand-in for the role and apparently had Hawn in mind the whole time for the role.
Hawn told E! News that she always knew her first movie after so many years "had to be funny" and had to be with "the right person." It was a match made in heaven.
According to People, Schumer said that she met the actress on an airplane a few years ago and told her that she had a movie in mind. Hawn didn't seem to care. "And she was very nice. 'OK, honey.' She probably thought I was a psycho. 'OK, crazy person,'" Schumer said of the meeting. But by now, the two are obviously besties and have kick-ass dance parties together. I just sorta wish they had done a song other than "Formation."