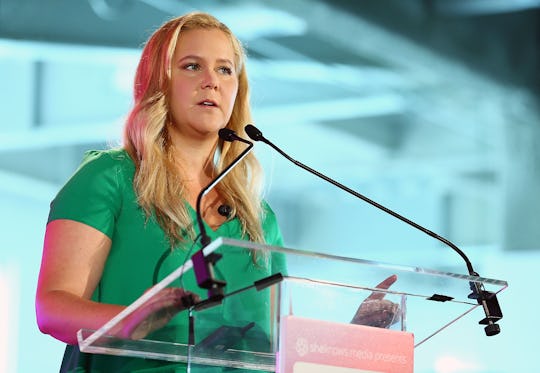 Astrid Stawiarz/Getty Images Entertainment/Getty Images
Amy Schumer's Tough Pregnancy Won't Stop Her From Working & Here's Why
Unless you've been under a rock, you probably know that Amy Schumer is expecting her first child, but what you might not know is that the actress is getting more ambitious as she inches toward her due date.
Amy Schumer is adamant about working while pregnant and, as usual, the star gets it so right about the way the world sometimes looks at expecting moms.
In a brand-new interview with InStyle, the comedian and actress talked about expecting her first baby with chef-husband Chris Fischer, and the fact that as excited as she is about becoming a parent, she doesn't see why people have so many judgments and preconceptions about expecting moms.
"You're supposed to be this Puritan, this saint," she told the magazine. "It's really Handmaid's Tale, like — no, I'm still gonna do me ... You don't stop being who you are just because you have a baby in you. You're still an artist, a writer, an activist, a dumb b*tch."
In fact, not only is Schumer finishing up her 2018 stand-up tour dates, but she's also knee-deep in launching her own clothing line with her professional stylist and long-time collaborator Leesa Evans, Harper's Bazaar UK reported.
The collection, Le Cloud Clothing, aims to be a comfy, affordable line for women of all shapes and sizes and will debut Dec. 13 online and at Sacks Off Fifth in New York City and Los Angeles, Harper's Bazaar UK added.
The collaboration came out of Schumer's realization that a lot of high-end or form-fitting designer clothing made her feel like she didn't look good enough, as well as her desire to find chic pieces that are comfortable, can be worn professionally, and work for a variety of bodies, as Schumer told InStyle.
"If the clothes don't look good on you, you're made to feel like it's your fault, like your body is wrong," Schumer told the magazine about her experience with Hollywood wardrobe fittings before collaborating with Evans. "I realized I dress badly a lot of the time because I don't want to be judged as a woman, so I sort of take myself out of the game [and just put on sweatpants]," she added.
Sweats probably make more sense than ever to the A-lister, who's been suffering from a type of super-severe morning sickness, hyperemesis gravidarum, which Kate Middleton also experienced during pregnancy, as TODAY noted. The I Feel Pretty star even had to check into the hospital and cancel tour dates in November.
With a huge career and a diagnosis that means you're in for a tougher pregnancy than average, it would be understandable if Schumer just wanted to take the next couple months off. But there doesn't seem to be any desire on her part to sit around just because she's pregnant (and throwing up frequently — I'd be way more of a baby)
"Anyone who says they loved being pregnant, I'm like, "Are you out of your mind?'" the actress added to InStyle, speaking of her difficulties. But she's going to take the next several months as they come. "I'm sure I'll get parenting shamed and whatever ... And I'll continue to not give a f*ck."
Schumer is certainly successful and talented — in 2016, she was the first woman to land on Forbes' list of highest-paid comedians after earning a $17 million paycheck the year before, according to Vanity Fair — and she can certainly handle her pregnancy however she likes. I'm really looking forward to hearing Schumer's perspective on what it's like to juggle so much after the baby comes, too. With how open and honest she's been throughout her pregnancy, you know she'll have something funny and fresh to say about the beauty — and chaos — of parenting, as well.
This first-time mom wants to have a home birth, but is she ready? Watch how a doula supports a military mom who's determined to have a home birth in Episode One of Romper's Doula Diaries, Season Two, below. Visit Bustle Digital Group's YouTube page for the next three episodes, launching every Monday starting November 26.