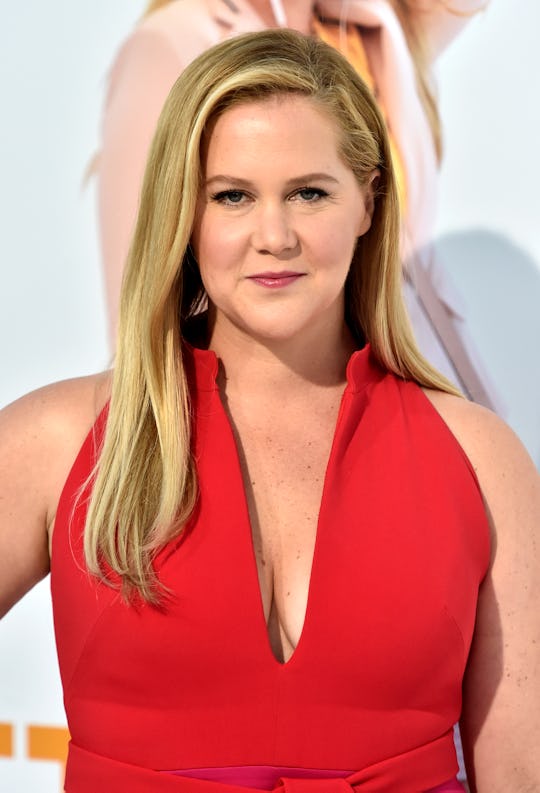 Frazer Harrison/Getty Images Entertainment/Getty Images
Amy Schumer Is Expecting Her First Baby With Husband Chris Fischer
In the digital age, pregnancy announcements are kind of a big deal. Whether you share a photo of a sonogram, use a letter board to tell the world that your dog is going to be a "big brother," or stage a photoshoot with your bump, many people put a lot of thought time into how they are going to share their happy news, and with good reason. The world found out today that Amy Schumer is expecting her first baby, and her announcement was pretty much as creative as they come.
On Oct. 22, Schumer posted a photo of Prince William and Meghan Markle during their Australia tour (where Markle is wearing her much-discussed blue striped dress and holding her stomach). Over Markle's head, Schumer photoshopped a photo of herself, and told fans that she would be announcing something pretty big on her friend Jessica Yellin's Instagram page. Shortly afterwards, Yellin posted a story of all of Schumer's recommendations for who you should vote for in Congress. At the very bottom, it read: "I'm pregnant — Amy Schumer."
Schumer obviously knew that her pregnancy announcement would be a high profile, widely-viewed ordeal. That's why her decision to involve something of political importance is even more profound. She's not only expressing her values, but also her acumen as an activist.
Though the news is certainly exciting, fans and followers have been speculating that Schumer has been pregnant for a while.
Earlier this year, when Schumer announced that she married then-boyfriend Chris Fischer after only a few months of dating, many speculated that a baby was the reason, the Independent reported. However, once again, Schumer found a way to tie her baby news into a political call-to-action. In February, she posted a note to Instagram on which she said: "2 things: No, I'm not pregnant. And no gifts, but thank you for asking. Instead, please consider a donation to Every Town for Gun Safety. Thought of Mayce and Jillian a lot yesterday, and sending love to everyone who has been affected by gun violence."
However, Schumer and Fischer have seriously talked about having kids...or at least, joked about it. People reported that during an appearance on The Ellen DeGeneres Show, Schumer told the host: "I have never wanted kids... Then I saw myself as a baby on your show and I thought, 'Who am I to deprive the world of such a beautiful baby?'"
She continued: "I think we are going to do it but just use my genetics."
Though it's yet to be seen whether or not Schumer was able to asexually reproduce as she had hoped, it is clear that now that the baby news is for real, fans are ecstatic for the couple.
On the Instagram post on which Schumer redirected fans to Yellin's account for the official confirmation, many fans posted their congratulations to the parents-to-be. Within the flurry of well wishes, one commenter wrote: "Best news ever!!!" while another said: "Congratulations Amy and Hubby!"
However, even fans recognize that kids will be great for Schumer's comedy career. As another fan wrote: "BELIEVE YOU ME you are about to get limitless amount of comedy material from pregnancy and then being a parent. It's like one big comic show for the rest of your life. One where you laugh at yourself and your kids in your constant sleep deprived state and say "what the hell is happening" like 6-100 times a day. But congratulations, so excited for you! Big time!"
All of the joking aside (which is not an easy thing for someone like Schumer) it's clear that the couple are going to be amazing parents, and hopefully Schumer continues to document her journey to motherhood in as many inspiring, powerful, hilarious ways as she can.