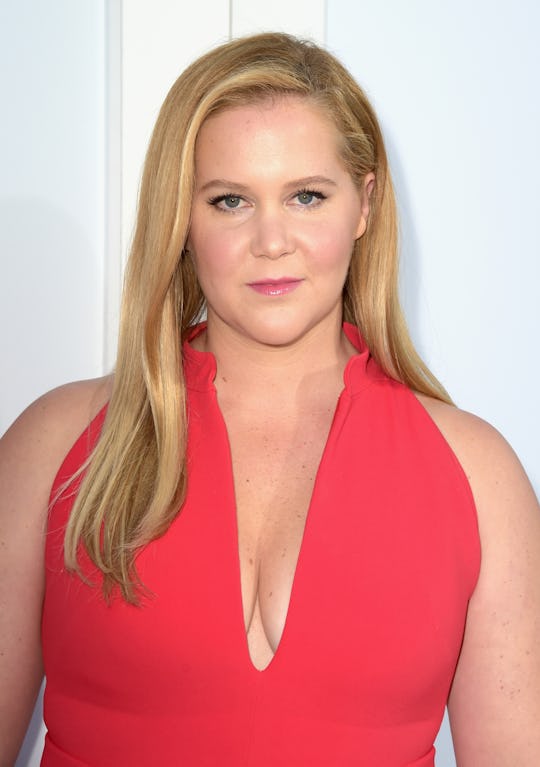 Kevin Winter/Getty Images Entertainment/Getty Images
Amy Schumer Responded To Those Pregnancy Rumors With Her Trademark Humor
In this day and age, celebrities and their fans have instant access to one another through the power of social media. Instagram, in particular, allows famous people to post updates of their everyday lives — and a regular stream of recent photos has a way of alerting fans to any small changes going on with their bodies. Because of this, female celebs are are basically on 24/7 bump watch. Any slight bloating, and odd clothing fit, or just a less than *perfect* angle can set off a tidal wave of bump "sightings" within minutes — as one star recently experienced. But instead of getting offended by them, Amy Schumer responded to pregnancy rumors with her trademark humor and it will make you love her even more.
The whole debacle started on Thursday when the funny actress posted two photos of herself on Instagram, which was promoting her new clothing line, as TODAY reported. "@leesaevansstyle and i are cookin somethin Up," Schumer captioned her post. Except, in the post's first image, in which she's wearing a red midi dress, Schumer has her hands grasping at an overlay of fabric near her midsection. Apparently the combination of this pose and the phrase, "cookin somethin up" led followers to believe this was some sort of a pregnancy announcement, because hoards of congratulatory comments ensued.
"Congrats!!! He or she is gonna have a fierce momma," one follower wrote.
Another Instagram user commented, "Totally preggers!!! That's awesome. Congrats."
Yet another follower wrote, "A BUN IN THE OVEN!!!"
Still, some were also quick to point out how this would make exactly zero sense. "She is cooking something up with a stylist. Not her husband," one Instagram follower corrected. "Unless her stylist is carrying a child for her I don't think it's a pregnancy announcement." True that. Hashtags help tell the whole story, folks.
In a follow-up post just a couple of hours later, Schumer cleared up the rumors with a short video captioned, "I always have a bump alert!" as Billboard reported.
"I am not pregnant," she says to the camera while holding what appears to be an alcoholic beverage, and then taking a drink. "I am not pregnant. I'm sorry, my friends said that ... it looked like I was like pointing to a bump or something. But I'm not. Leesa Evans and I created a clothing line for all sizes and shapes, and at a chill price point. That's what I was trying to allude to. But thank you for thinking of my womb." LOL.
Of course, Schumer is no stranger to rampant pregnancy rumors. Back in February — shortly after news spread that she had gotten married to chef and cookbook author, Chris Fischer — fans speculated the quick and low-key wedding was a result of an unplanned pregnancy, Entertainment Weekly reported.
For this situation, Instagram was also Schumer's choice of outlet in which to dispel the rumors, Us Weekly reported. She wrote at the time:
2 things. No I'm not pregnant. And no gifts but thank you for asking. Instead please consider donation to Everytown for Gun Safety. Thought of Mayce and Jillian a lot yesterday and sending love to everyone who has been affected by gun violence.
In Schumer's fans' defense, their relationship did seem like a whirlwind, especially from the outside. The couple was first spotted together in November 2017, as People reported. And they only made their relationship social media official literally two days before their Feb. 13 nuptials. Still, as a general rule of thumb, it's probably best never to assume someone is pregnant unless they tell you using those exact words. Otherwise, you risk looking like a giant you-know-what and them feeling self-conscious (and possibly offended).
So if you take away anything at all from yet another round of Amy Schumer pregnancy rumors, it's this: Stop assuming! (And definitely stop straight-up asking.) Instead, let people tell you if they're expecting, and when they're ready. That way, no one is forced to awkwardly explain why they're not pregnant.