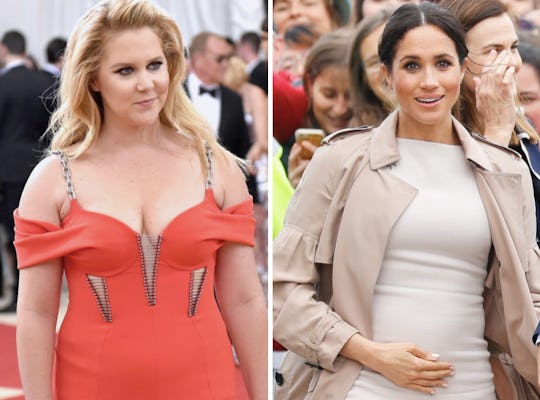 Mike Coppola/Getty Images Entertainment/Getty Images Chris Jackson/Getty Images Entertainment/Getty Images
Amy Schumer Hilariously Explains Why Meghan Markle Is Her "Nemesis" While Pregnant
Amy Schumer first teased her pregnancy with a picture of her head photoshopped on a snap of Meghan Markle's body. Then at a comedy show in November, Schumer joked that it's not "fun" to be pregnant at the same time as the Duchess of Sussex, according to Metro. As for the comedian's latest Markle reference in this running gag? Amy Schumer says Meghan Markle is her "nemesis," proving that comedy is getting her through the ups and downs of pregnancy.
Schumer announced her first pregnancy in October, just one week after Markle's high-profile reveal. Although Schumer hasn't confirmed her due date yet, it's expected she'll deliver around the same time as the Duchess of Sussex in spring 2019. Given the similar timeframes of their pregnancies, it's no wonder why Schumer is comparing herself to Markle.
In fact, Schumer's first statement confirming her pregnancy mentioned her plans to "compete" with the royal mom-to-be.
"Chris and I are thrilled and almost positive he's the father," Schumer told The Los Angeles Times. "I look forward to competing with [Meghan] Markle every step of the way."
Schumer wasn't kidding because she brought up Markle again during a comedy show in November.
"You know who it's not fun to be pregnant at the same time as? Meghan Markle!" she quipped, according to Business Insider. "She's walking around in heels and cradling her baby that's not even there, and I'm barely wearing underwear."
But wait — that's not all. In a new video for InStyle titled, "How To Not Give A Sh*t What Anybody Thinks," Schumer used the topic of Markle to illustrate why people shouldn't take themselves too seriously.
"Why is she my nemesis?" Schumer said in reference to the Duchess of Sussex. "Because she's pregnant at the same time as me and I'm not letting her get away with that."
She added, according to Entertainment Tonight: "So maybe I'm feeling competitive, and oh, Meghan looks better than me and she has a tiny small bump and she's wearing high heels and I already look 10 months pregnant and I've been wearing flats for the last four years."
Schumer ended her monologue on an important note about why you shouldn't compare yourself to others, reasoning, according to HuffPost: "I remember no one really cares about me, because they really only care about themselves."
Of course, Schumer isn't actually obsessed with Markle's pregnancy versus her own. This running gag is probably a welcome distraction to the medical struggles Schumer has faced during the last few months.
In late November, Schumer was hospitalized with hyperemesis gravidarum, aka severe nausea, a condition Kate Middleton suffered from during her own pregnancies.
"I have hyperemesis and it blows," Schumer wrote on Instagram. "Very lucky to be pregnant but this is some bullsh*t!"
I imagine this "feud" with Markle is a welcome distraction to Schumer's pregnancy blues. Comedy is a great form of self-care for some people, even when it involves self-deprecation.
Not to mention, it's pretty amazing how Schumer is able to whip up hilarious jokes while dealing with a debilitating condition. Props to you, mama-to-be.
This first-time mom wants to have a home birth, but is she ready? Watch how a doula supports a military mom who's determined to have a home birth in Episode One of Romper's Doula Diaries, Season Two, below. Visit Bustle Digital Group's YouTube page for the next three episodes, launching Mondays in December.