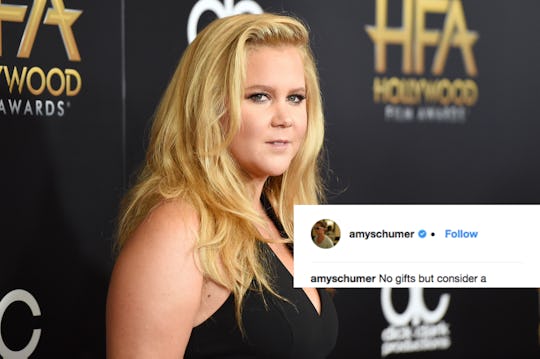 Jason Merritt/Getty Images Entertainment/Getty Images
Amy Schumer Silences Pregnancy Rumors In An Emotional Instagram Post
In case you missed the news, Amy Schumer got hitched to her boyfriend of about four months, Chris Fischer, on Tuesday, according to PEOPLE. Following the surprise ceremony, many fans wondered if Schumer is pregnant, because of course. On Thursday, Amy Schumer shut down pregnancy rumors in a moving message she shared to Instagram. The note is as emotional as it is important.
Similar to most celebrity weddings, the details about Schumer's nuptials are scant. All that's known about Schumer's special day so far is that a bunch of famous people attended the ceremony, like Jennifer Lawrence and Jake Gyllenhaal, and that it took place in Malibu, California, according to AOL.
Additionally, a supposed attendee claimed the wedding was being "very chill." The source told Us Weekly:
It was a very chill wedding. It was thrown together last minute. Most of the guests found out the wedding was happening on Tuesday from a text message sent out by Amy on Sunday. It was like, 'Hey, this is happening. If you can make it, great. If not, no worries.' People were in and out all night. It was a gorgeous day. Everyone was having a good time.
Schumer must be feeling laid-back these days because she confirmed the exciting news in a totally low-key way. "Yup," Schumer captioned snaps of her wedding day posted to Instagram, according to HuffPost.
Unfortunately, Schumer's post-wedding joy was interrupted by rumors that she's pregnant. Yep, some people found it *suspicious* that Schumer got married to Fischer within less than a year of dating. It's both annoying and problematic to assume that Schumer had a shotgun wedding or that something is up if a couple gets married shortly after they first begin dating. Not to mention, it's freaking 2018. It's kind of hard to believe that shotgun weddings are still a major topic of discussion, especially when statistics prove the practice is on the decline. A study in 2014 found that the "percentage of unmarried pregnant women who marry within three years of conception has fallen by half since the 1970s, from 51 percent to 25 percent," according to USA Today.
A few people took to Instagram to agree with my sentiments. "Why should you be pregnant to get married?.. These stereotypes are so silly! Congrats, Darling," one person wrote. Another person chimed in: "Omg people thought you got married bc you were pregz??? And living in the 1950s??"
Although it's pretty ridiculous that Schumer had to address the pregnancy rumors, it did give her the opportunity to advocate for a cause near and dear to her heart: gun safety. Schumer, who is an outspoken proponent of gun safety laws, likely felt compelled to speak out on the issue following the mass shooting at Marjory Stoneman Douglas High School in Parkland, Florida, on Wednesday, according to NBC. The gunman was arrested for killing 17 people and at least 14 people were wounded in the shooting, according to CNN.
Schumer wrote in an Instagram post, according to Entertainment Weekly:
2 things.
No I'm not pregnant.
And no gifts but thank you for asking. Instead please consider donation to Everytown for Gun Safety. Thought of Mayce and Jillian a lot yesterday and sending love to everyone who has been affected by gun violence.
Throughout the years, Schumer has routinely teamed up with Everytown for Gun Safety, a non-profit organization advocating for stricter gun regulation. Schumer connected with the organization in 2015 after two of her fans, Macy Breaux and Jillian Johnson, were shot and killed by a gunman during a screening of her movie, Trainwreck, according to CBS. As you can see in Schumer's note above, Breaux and Johnson's deaths continue to be motivating factors in her plight to end gun violence.
It goes without saying that Schumer didn't have to address the pregnancy rumors, but I'm glad that she did. Schumer shifted the focus from gossip to an important issue affecting everyone in the United States, and her activism is commendable.
Check out Romper's new video series, Bearing The Motherload, where disagreeing parents from different sides of an issue sit down with a mediator and talk about how to support (and not judge) each other's parenting perspectives. New episodes air Mondays on Facebook.